STORY
Welcome to CU Connections
The University of Colorado Faculty and Staff Newsletter has a new name: CU Connections.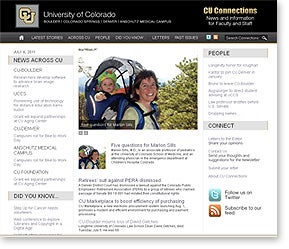 We think it's a bit catchier, certainly more succinct, and refers to what we have strived for since we began publication more than two years ago: foster connection among the faculty and staff throughout CU's four campuses and system administration. The name was chosen with the input of the systemwide Faculty Council and Staff Council.
It's been some time since we selected the name. That's because we wanted to have something new to pair with it, and today you're looking at it. CU Connections has been redesigned to provide a cleaner look and enable commenting on individual stories. We hope readers will take advantage of the opportunity to engage in discussion about individual items – simply sign up today to register with our site. We're asking those who post comments to provide their names and contact information so that we may verify authenticity, but only names will be posted to the site with comments.
We'll also continue to publish letters to the editor – including any thoughts and comments you have on this redesign.
As more colleagues and students return to campuses next month, we'll talk more about the changes we've made and how we think they'll make for a better reader experience. We also ask for your patience, as we're still getting used to our "new home" – we're bound to discover bugs that need fixing, and welcome your help in that mission. Feel free to contact the editor directly – Jay.Dedrick@cu.edu.
As always, thank you for reading.