STORY
Water wisdom earns top CU Innovation and Efficiency Award for 2016
Annual awards, expo promote employee innovations
Efforts to reduce plastic waste at CU Boulder – by specially fitting trucks to dispense filtered water at campus events, and by providing bottle fill stations in residence halls – earned top honors from the 2016 CU Innovation and Efficiency Awards (formerly CU Shared Practices/CUSP), which promote employee innovations.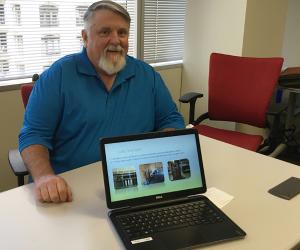 Winning team members Don Seeley and Mike Hilton from CU Boulder's housing-administration estimated that their innovation diverts over 20,000 plastic water bottles from landfills every year, another example of CU's commitment to sustainability.
Seeley and Hilton were presented with the University Controller's Award for Excellence ($1,500) at the annual CU Innovation and Efficiency Awards Expo, held June 7 at system administration offices at 1800 Grant St., Denver.
Nine semifinalist teams came together at the expo to showcase their innovations and efficiencies. Five teams, including the water truck team, were awarded cash prizes. The other four prize-winning teams were:
David Lawlor, CU Boulder, who undertook a redesign of the reporting process by which faculty and staff can provide feedback on at-risk students to the Student Academic Success Center. His new web-based reporting has received glowing reviews from users, and has improved the response rate from around 40 percent in past years to over 60 percent as of the fall 2015 semester. More importantly, this enhanced feedback helps target students in need of additional academic support and improves student retention.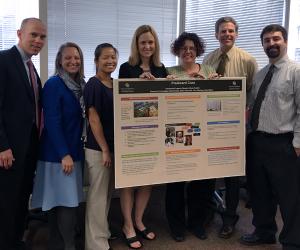 Rob Stiner, Myra Keeble, Kate Beatty, Thomas Shallow, Kristine Jenkins and Steve Osswald, CU School of Medicine at the Anschutz Medical Campus, combined departmental resources and talents to create Pre Award Core, a shared team serving the grant and contract submission needs of participating departments. This shared service model has vastly improved the pre award experience by providing better coverage, standardizing processes, and improving customer service for principal investigators; this improved service allows PIs to focus on research and encourages more grant submissions.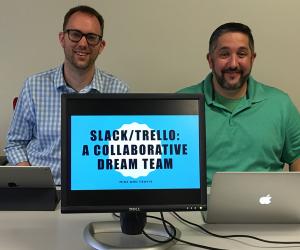 Travis Chillemi and Michael Edwards, CU system administration, won for their implementation of the innovative communication and collaboration apps Slack and Trello, whose unique features have helped streamline team conversations and improved organization and tracking of tasks and work assignments.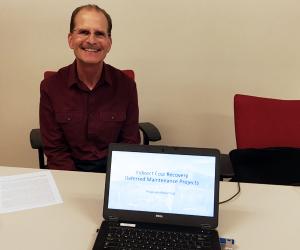 Gregg Kahler, Denise Thomas, Jodie Ferrera, Zack Tupper, Ron Ried and John Kamprath, CU Boulder, were honored for streamlining the business processes used to manage Deferred Maintenance Projects on their campus. The new processes allow for improved resource and funding utilization, and optimize campus investment in research space.
Other innovations showcased at the expo included: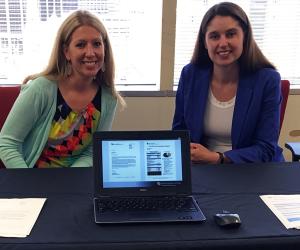 The Total Compensation Snapshot letter, a personalized statement developed by Sophia Lueth and Kelly Tasky, CU Denver, that summarizes in dollar amounts the value of each department employee's individual compensation package, including benefits like retirement programs, holidays and vacations, that, summed together, have helped improve employee retention.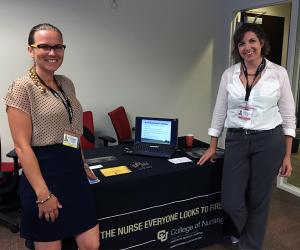 Allison Boyrer and Deana Alfonso, CU Denver, found a new way to utilize an existing software program (Typhon) to aid them in the clinical placement of nursing students in rural Colorado, benefiting both the students and Colorado's rural communities in need of health care.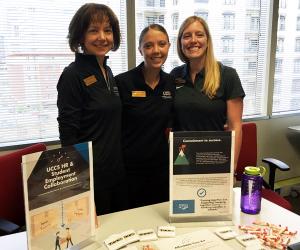 Becca Stephens, Jeanne Durr, Shannon Cable and Susan Watson, UCCS, combined the forces (and locations) of their respective offices (Human Resources and Student Employment), to further collaboration and improve employee service delivery.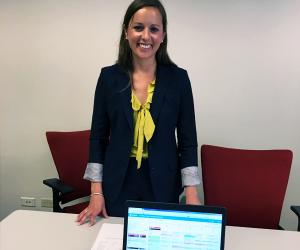 Scheduling for the Department of Orthopedics was a daunting task involving multiple spreadsheets, Word documents and calendars for their many providers and facilities, until Lauren Brummet and Marcy Gilbert, CU Denver, implemented Qjenda, a scheduling software that consolidates all schedules into one online tool that can be viewed securely by all authorized service providers.
A total of 14 submissions made their way to the CU Innovation and Efficiency Award website in 2016, demonstrating CU's commitment to excellence and innovation. These submissions may be viewed at https://www.cu.edu/controller/innovation-efficiency-awards, along with more details about the program.
The 2017 program year will begin accepting new submissions on Jan. 1.