STORY
Volunteers help students settle into Campus Village Apartments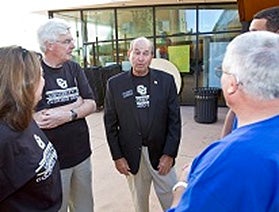 Suitcases, shoes, bicycles, boxes and assorted bundles were hauled into Campus Village Apartments last week as students began arriving at the Denver Campus for the fall semester that began Monday.
On hand to welcome and help students with their belongings were more than 50 volunteers organized by the Office of Student Life. "It's amazing to see our students, staff and others step up to welcome the new students," said Larry Loften, director of Community Standards and Wellness.
Clad in black T-shirts sporting the new CU logo, volunteers were easy to spot. Chancellor Jerry Wartgow (photo at right) and Provost Rod Nairn (photo left) also donned T-shirts and pitched in to greet students and help with the move-in activities. Both noted the excitement that goes with the start of a new year.
The Campus Village move-in support was just one part of a much larger effort introduced this fall. Student Life staff organized CU Launch to engage first-year student commuters as well as those living on campus. Other events include hosted trips through downtown Denver, an outing to a Rockies game and a bicycle trip.
Located just west of the Auraria Campus, Campus Village Apartments accommodate more than 650 student residents. Of the Auraria Campus students calling Campus Village "home" this fall are 514 CU Denver students, 112 registered at Metropolitan State College of Denver and 15 attending classes at the Community College of Denver.
Among the ranks of CU Denver students at Campus Village are students from very diverse backgrounds with a broad range of experiences and interests. Some numbers:
CU Denver first-year students: 287
International Chinese Beijing: 76
Denver Bound Program:  45
University Honors and Leaders:  14
BA/MS MD Program:  12
Thank you treats for faculty and staff: The Office of Student Life invites faculty and staff to unwind after a long week of hard work welcoming students back. Enjoy cookies and milk starting at 3 p.m. Friday, Aug. 26, in the Student Life Office, Tivoli 303.