STORY
Visiting D.C., President Saliman highlights CU priorities for federal leaders
Several members of state's congressional delegation met with CU leadership team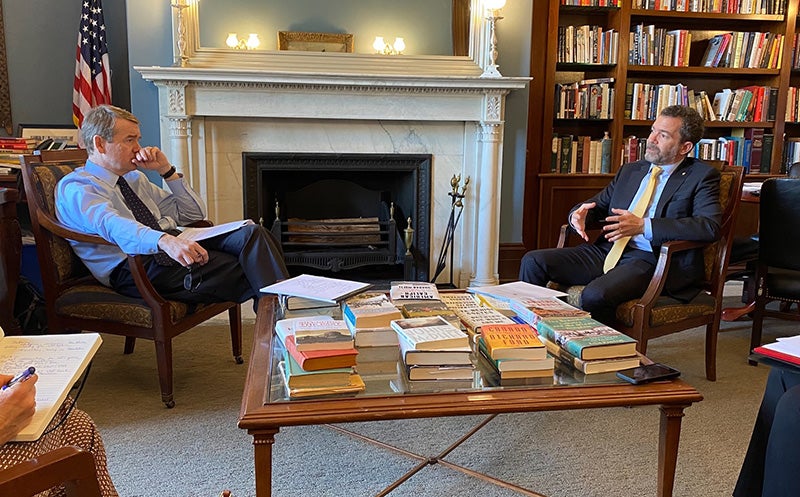 CU President Todd Saliman last week traveled to Washington, D.C., meeting with federal officials, members of Colorado's congressional delegation, CU students and many CU supporters.
"We had a great visit to D.C. to advocate for CU's priorities across all four campuses," Saliman said. "I'm grateful for the members of Colorado's delegation and other leaders for taking the time to meet with us. I also enjoyed having the opportunity to spend time with CU Boulder students participating in the CU in D.C. program, who are gaining amazing public policy experience in Washington."
Joined by Danielle Radovich Piper, senior vice president for external relations and strategy, and members of CU's Federal Relations team, Saliman hosted a breakfast attended by Reps. Brittany Pettersen, Joe Neguse and Lauren Boebert and senior leaders from the offices of Reps. Diana DeGette and Doug Lamborn. CU leaders highlighted the university's federal policy initiatives and ways CU can partner with their offices.
Saliman and the CU team met with Rep. Ken Buck to discuss working together on national security, athletics, and rural and veterans' health issues. Buck said he aims to continue supporting CU in these areas and views the university as a leader in many Colorado issues.
A visit with Sen. Michael Bennet highlighted CU's advocacy efforts around student aid, and ways CU can support students across Colorado. The senator said he is committed to supporting CU's federal priorities in the upcoming Congress.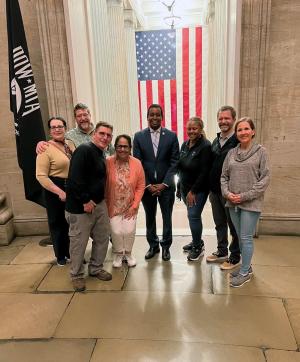 CU leadership joined Rep. Neguse and members of the Longmont City Council, who were in Washington for the National League of Cities Congressional Conference, on an after-hours tour of the Capitol building. Neguse offered a view into the history of the building during the tour, which also provided an opportunity for the CU team to connect with the Longmont leaders and learn about potential educational, community and workforce partnerships between CU and the city.
Over lunch, Saliman and Peter Goff had a conversation about the importance of CU appealing to all Coloradans and discussed how to expand the university's diversity outreach. Goff is a former State Senate president who now works and lives in Washington.
Another former State Senate president, Leroy Garcia now serves as the special assistant to the assistant secretary of the Navy for Manpower and Reserve Affairs. He led a tour of the Pentagon for the CU team. In Garcia's new position, he works with all branches of the military and the White House on military readiness. Saliman and Garcia discussed CU's pre-collegiate programs and the university's outreach work across the state, including the recent hiring of two new regional program managers.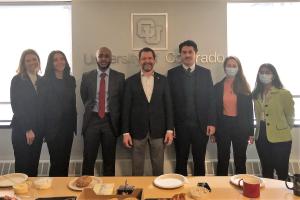 Finally, Saliman hosted a breakfast with CU Boulder "CU in D.C." students and two Ph.D. candidates who were in Washington for the American Association for the Advancement of Science's Catalyzing Advocacy in Science and Engineering (CASE) Workshop, a national workshop CU helped launch for STEM students interested in policymaking. The students highlighted their interests in federal policy and how they represent CU in Washington. CU Boulder is one of only two founding universities in the CASE organization.