STORY
Update: Regent Bishop won't seek re-election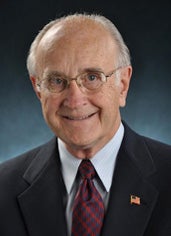 University of Colorado Regent Tilman "Tillie" Bishop, who has served on the board since 2007, says he will not seek a second term this year.
The Grand Junction Republican represents Colorado's 3rd Congressional District. A Colorado native, Bishop is a longtime educator and influential politician who served for nearly three decades as a state lawmaker. He told the Grand Junction Daily Sentinel this week that he will not run for re-election this November.
Bishop told CU Connections that his ongoing battle with cancer makes it difficult to travel across the state to attend board meetings. An interview with Bishop will appear in next week's issue, debuting on Thursday, Jan. 11.
Said CU President Bruce D. Benson, "Tillie Bishop has been an exemplary public servant for the people of Grand Junction and the citizens of Colorado for nearly four decades, and in his role as regent he has provided thoughtful, measured and experienced leadership for CU. We have been fortunate that he and his wife, Pat, have spent the past five-plus years serving our institution, and we look forward to his continued leadership over the coming year."
The 3rd Congressional District is Colorado's largest geographically, encompassing the western third of the state as well as the Pueblo area. Before Bishop indicated his plans, one candidate already had filed with the state to seek election to the seat: Jessica Garrow, a Carbondale Democrat.