STORY
Unstoppable Women's Luncheon at UCCS draws 400
Event honors Karen Possehl scholars of uncommon resilience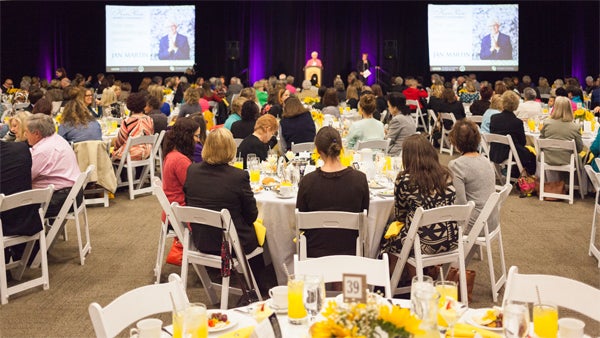 The journey of Tiffany Sinclair has taken some unexpected turns. She endured the sudden death of her husband of 25 years from toxic shock syndrome, the diagnosis of her 11-year-old daughter with brain cancer, then the death of her mother from liver cancer.
But that was not the main takeaway from Wednesday's 11th annual Karen Possehl Women's Endowment (KPWE) luncheon, which attracted 400 attendees to the Gallogly Events Center. The main takeaway was that thanks to generous UCCS donors, Sinclair overcame all that and more to graduate from UCCS this month with a master's in counseling and human services.
Receiving the letter years ago that UCCS had accepted her as a KPWE scholar, Sinclair said, "I remember being shocked. I thought, 'Wow. Somebody heard my story.' It was really the inspiration for me to keep going."
Tiffany was one of nine graduating KPWE scholars honored Wednesday at the Unstoppable Women's Luncheon, UCCS' largest annual fundraising event. Wednesday's event raised $26,000 from attendees plus an additional major lead gift from Karen and Jim Possehl.
The KPWE program—established through the efforts and generosity of UCCS faculty, staff and community members, and endowed by a gift by Karen and Jim Possehl—provides scholarships to women with financial need, strong potential and the resilience to overcome personal obstacles to complete their college education.
Other honorees Wednesday included Teresa Gallegos, Courtney James, Jana Pendergraft, Maykla Pittman, Lauren Potereiko, Deandra Sanders, Yves Sturdevant and Lauren Yanez. The event also honored former Colorado Springs city councilwoman Jan Martin as the 2015 Unstoppable Woman, an award given annually to a community leader.
The nine graduating KPWE scholars join 140 other scholars who have been supported since 1996 by this life-changing scholarship program. How life-changing? UCCS Chancellor Pamela Shockley-Zalabak reeled off a few impressive statistics that reinforced this program's value. For example, KPWE scholars at UCCS have had a 93 percent graduation rate — though similar cohorts of nontraditional students have graduation rates in the 30s.
Beyond tuition support, KPWE scholarship recipients also receive support for child-care expenses and are paired with Colorado Springs-area community mentors that enrich the students' personal, career and leadership development.
The 2015-16 year will mark the 20th class of KPWE scholars, a presence at UCCS for nearly half of that campus's history. Scholars have received more than $350,000 in scholarship support and $30,000 in childcare support since inception.
Mary Mashburn, the 2007 Unstoppable Woman honoree, told the audience to close the event, "Every year, I wear the same jacket to this event, and I contribute what I don't spend on a new jacket for this event as a donation to KPWE." This is the ninth year Mashburn has worn this jacket since receiving the 2007 award.
Karen Possehl, also a CU Foundation trustee, talked from the podium about something she'd read six months earlier. "I've had this little piece of paper with me for six months because it made me think of our scholars," she said. "It says: Your present circumstances don't determine where you can go. They merely determine where you start."