STORY
University ranks fifth on 'best value' list of public colleges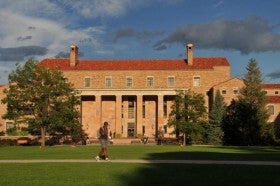 The University of Colorado at Boulder is the nation's No. 5 "best value" public college or university for 2010 according to rankings released Tuesday, Jan. 12, by USA Today and The Princeton Review.
CU-Boulder's "reasonable tuition is one of the school's major selling points," stated the CU profile posted on USA Today's Web site. "Tuition (including mandatory fees) for Colorado residents ranges from roughly $8,000 to $12,000 annually, depending on the academic program. For nonresidents, tuition ranges from $28,000 to $31,500. Room and board is an additional $10,000 annually. Aside from these expenses, the school estimates that a student will spend about $2,000 in books and supplies."
The rankings featuring 100 schools — 50 public and 50 private — are posted on the Web sites of USA Today and The Princeton Review. The top 10 schools in the public and private categories are ranked and the remaining 40 schools are listed in alphabetical order.
The rankings were based on surveys of administrators and students at more than 650 public and private colleges and universities. The selection criteria covered more than 30 factors in three areas: academics, costs of attendance and financial aid, using the most recently reported data from each institution for the 2008-09 academic year.
"It is gratifying to have a national publication recognize what Colorado students have known for a long time: CU-Boulder is an amazing value," said CU-Boulder Chancellor Philip P. DiStefano. "We are committed to providing an outstanding and affordable education for Colorado students and, indeed, for students around the nation and the world."
USA Today's site features a database that allows users to view in-depth details about the schools by clicking on an interactive map to explore criteria including cost of attendance and financial aid data, enrollment size, location and The Princeton Review's analysis of why each school was chosen as a "best value" college.