STORY
University of Colorado tops $1 billion in sponsored research funding for fourth consecutive year
Federal, state, international, foundation entities awarded over $1.4 billion for CU innovation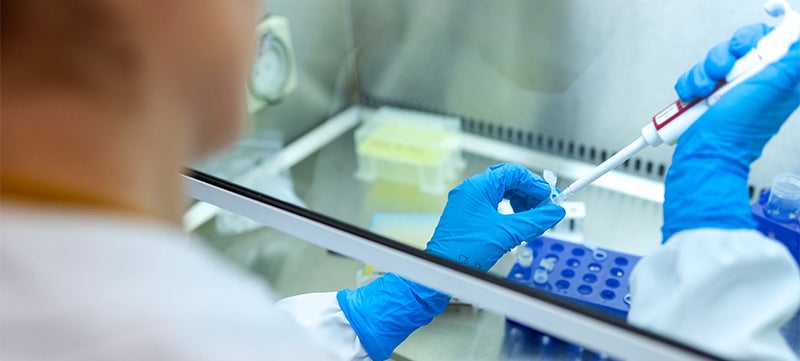 For the fourth consecutive year, faculty at the University of Colorado attracted over $1 billion in annual sponsored research funding and gifts.
The 2019-20 fiscal year's $1.41 billion total in annual sponsored research funding and gifts across the four-campus university system is on par with the previous year's $1.47 billion total, which remains a record for CU.
Most sponsored research funding is awarded by federal agencies. In 2019-20, CU received $829.7 million in federal awards and $398.9 million in non-federal awards. Gifts toward research via the CU Foundation account for the remainder.
"The research funding our prolific faculty bring in has a tremendous economic ripple effect on our state, but more important, it allows them to continue their excellent work addressing some of society's most pressing issues in energy, health care, climate change, space, cybersecurity and more," said CU President Mark Kennedy.
Following are the year's totals in sponsored research funding and gifts at CU campuses, along with highlights of the endeavors that are leading innovation at CU and leaning into the future across Colorado and beyond:
University of Colorado Anschutz Medical Campus: $762.2 million. The CU School of Medicine won a five-year, $6.7 million grant to establish a unified Type 1 and Type 2 diabetes research community at the CU Anschutz Medical Campus. The grant from the National Institute of Diabetes and Digestive and Kidney Diseases (NIDDK) and the designation as a Diabetes Research Center will strengthen CU Anschutz's research across the campus, CU system and state. While already a recognized diabetes research hub, the designation opens the door even wider to the most advanced diabetes technologies and resources in the Rocky Mountain region. The Diabetes Research Center will be co-directed by Lori Sussel, Ph.D., of the Barbara Davis Center for Diabetes, and Jane Reusch, M.D., professor of endocrinology in the School of Medicine.
University of Colorado Boulder: $613.9 million. How do screen time, drug use, exposure to environmental toxins or concussions affect the development of an adolescent's brain? What role do genes play in influencing its size, structure and function? Why, neurologically speaking, do teenagers do the crazy things they do? These are among the previously unanswerable questions CU Boulder researchers hope to help unravel with a new seven-year, $11 million grant renewal from the National Institutes of Health. The funding supports the continuation of the landmark Adolescent Brain Cognitive Development (ABCD) study, launched in 2015 as the largest long-term study of brain development and child health ever conducted in the United States.
University of Colorado Colorado Springs: $18.3 million. A $983,137 grant from the Colorado Springs Health Foundation is supporting the development and implementation of trauma-informed behavioral health care sciences in hospital emergency departments. Led by principal investigator Kristin Samuelson, associate professor of psychology, in conjunction with the National Institute of Human Resilience, the purpose of the grant is to develop and deliver resilience-focused behavioral health assessment and treatment to trauma survivors at three major Colorado Springs hospitals: Children's Hospital Colorado, UCHealth and Centura Health. The team also will evaluate the effectiveness of its stepped model of care that attends to the psychological needs of physical trauma patients with the goal of preventing the development of longer-term mental health problems.
University of Colorado Denver: $18 million. The Administration for Community Living/DHHS awarded researchers a $976,000 State Grant for Assistive Technology to Cathy Bodine and her staff at the Center for Inclusive Design and Engineering (CIDE) to support state efforts to improve the provision of assistive technology to individuals with disabilities through comprehensive, statewide programs. CIDE uses innovative technology and engineering to help those living with disabilities – including sensory, cognitive, mobility and communication needs – to access the world around them. The center has grown from a single project in 1989 to providing assistive technology information and services to more than 3 million people around the world.
Sponsored research funding from federal, state, international and foundation entities targets specific projects to advance research in laboratories and in the field. Research funding also helps pay for research-related capital improvements, scientific equipment, travel and salaries for research and support staff and student assistantships. CU cannot divert this funding to non-research-related expenses.
A significant amount of sponsored research funding is directed to departments and researchers with unique expertise, such as biotechnology and aerospace, which stimulates industry.