STORY
University of Colorado, Pueblo leaders discuss needs of Southern Colorado
CU Regents, President Saliman meet with school district and community leaders, lawmakers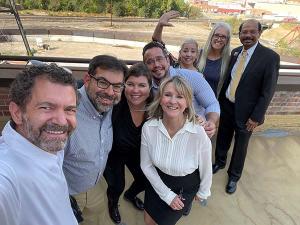 A delegation from the University of Colorado traveled to Pueblo last week to meet with local leaders and learn how the university can better serve the region.
President Todd Saliman was joined by Regents Sue Sharkey, Callie Rennison and Ilana Spiegel, and UCCS Chancellor Venkat Reddy for two days of conversations with school district officials, community advocates, state and local lawmakers and local journalists.
"As Colorado's flagship university system, we are committed to serving all Coloradans," Saliman said. "It's critical for us to visit communities across the state to hear directly how we can best engage with them, meet their workforce needs and communicate about the value and affordability of a CU degree. We're grateful for the feedback we received during our visit to Pueblo. It will help us to better meet the unique needs of that part of our great state."
The trip included a forum with leaders from the Pueblo 60 and 70 School Districts to gather feedback on partnership opportunities to help Pueblo students. Among those who participated in the conversation were former Colorado State Senator Angela Giron, now president and chief executive officer for the Boys and Girls Club of Pueblo County; former Judge Dennis Maes, School Board Member in Pueblo 60; and superintendents Charlotte Macaluso (Pueblo 60) and Ed Smith (Pueblo 70).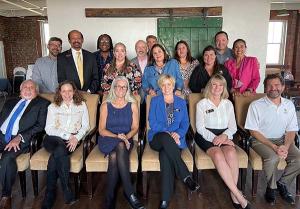 The conversation was hosted by Action 22, a nonpartisan organization composed of business leaders, elected officials, government and nonprofit organizations that advocates for 22 counties in Southern Colorado.
"What we discovered from the visit was a sincere desire from President Saliman, Chancellor Reddy, the CU Regents and the leadership team to up their game in being Colorado's University," said Sara Blackhurst, executive director for Action 22. "They asked questions and listened closely. We were impressed with their sincerity and we can't wait to see how they will deliver on their commitment."
The delegation – which included CU's head of engagement Tony Salazar, Vice President for Communications Michael Sandler and Tanya Kelly-Bowry, CU's longtime lobbyist and former vice president for government relations – also held individual meetings with State Sen. Cleave Simpson, State Rep. Daneya Esgar, Pueblo County Commissioner Garrison Ortiz, the Pueblo Hispanic Education Foundation and The Pueblo Chieftain.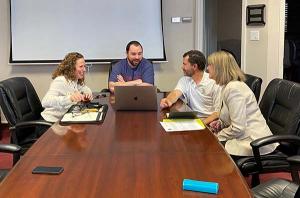 During meetings with community members, university leaders solicited feedback on the search for CU's next president, currently underway.
"It was wonderful how open everyone was about what they want to see in CU's next president," Sharkey said. "We must ensure the president and the university remain supportive of all students across the state. Connecting with people and communities across Colorado and hearing the issues impacting them is of paramount importance."
The visit to Pueblo was one of several planned engagement trips to provide opportunities for CU leaders to hear directly from Coloradans and help advance state priorities around higher education and workforce needs. Visits to Fort Morgan and Sterling were held in September; future trips are slated for Southwestern Colorado and the Western Slope.