STORY
University of Colorado Hospital receives grant to advance cancer care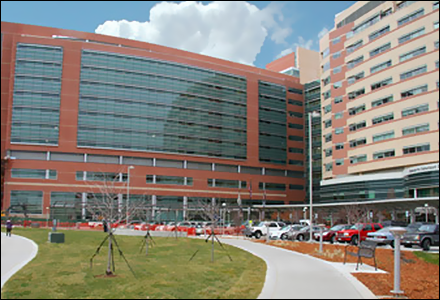 University of Colorado Hospital (UCH) has been chosen to help the LIVESTRONG Foundation advance the care of cancer survivors requiring a stay in the hospital. UCH is one of 15 sites across the country awarded $10,000 to put toward the costs of achieving The Joint Commission advanced certification in palliative care.
"Palliative care is about improving the quality of life for the patient and family members as they face serious illness," said Jeanie Youngwerth, M.D., director of the Palliative Care Consult Service at UCH.
Palliative care integrated into cancer care has been shown to improve physical and psychological symptoms, improve family caregiver well-being and even prolong survival.  Palliative care is provided in conjunction with disease-modifying or curative treatments and can be obtained in the hospital or outpatient setting.
"The inter-disciplinary team at UCH provides specialized care and extra support to patients of any age and at any stage of a serious illness and their families," Youngwerth said. "The first time we meet with a patient and their family, we might spend a couple hours getting to know them and learning about their values and goals. Then we make sure that medical therapies are aligned with that patient's values and goals."
The Joint Commission is the body that accredits and certifies health care organizations across the United States. It launched its Advanced Certification Program for Palliative Care in 2011.The certification is designed to recognize hospital inpatient palliative care teams that demonstrate exceptional patient and family-centered care in order to improve quality of life for patients facing serious illness. Joint Commission certification is recognized nationwide as a symbol of quality.
UCH is part of the University of Colorado Cancer Center consortium. The University of Colorado Boulder, another consortium member, received a $10,000 LIVESTRONG seed grant to develop Camp Kesem, a university-based summer camp where college students fundraise and host camps, free of charge, for children with a parent who has, or has had cancer.  More than 1,200 kids affected by cancer attend the camp each year. Camp Kesem in Boulder will take place in the summer of 2014.
CU Cancer Center is one of just seven members of the LIVESTRONG Survivorship Center of Excellence Network.   As a Center of Excellence, CU Cancer Center provides essential programs to Colorado's 215,000 cancer survivors and their families.  The center works with LIVESTRONG to improve survivorship care through collaborative research, the development of new interventions and sharing of best practices.