STORY
University of Colorado a global leader in patents for inventions, innovations
CU leaps into Top 20 universities for connecting research and industry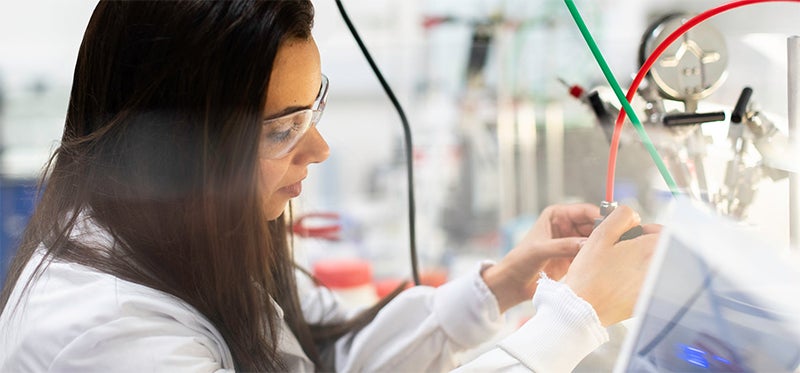 The University of Colorado jumped from No. 53 to No. 20 in a recent global ranking of the top 100 universities granted U.S. utility patents for an array of inventions and innovations that can have far-reaching and positive impacts on society.
The National Academy of Inventors (NAI) and the Intellectual Property Owners Association (IPO) this week announced the 2019 rankings. All four campuses contributed to CU's total 100 patents.
"This is yet another demonstration of the innovative, entrepreneurial spirit of faculty across the CU system," said CU President Mark Kennedy. "Our faculty improve lives, save lives and make our state and world a better place. I'm pleased and proud that CU faculty are so adept at securing patents that turn their ideas and research into practical applications that advance a variety of fields."
Here are the highest-impact patents from 2019 and their associated university spinoffs:
"While patents are a critical part of commercialization, our strategy also heavily emphasizes entrepreneurial training, mentorship and startup resources," said Brynmor Rees, assistant vice chancellor for Research & Innovation at CU Boulder and managing director of Venture Partners at CU Boulder. "This jump in our ranking shows that our engine of new innovations powers our holistic approach of bringing ideas to market."
"The University of Colorado's focus on innovation is yielding impressive results, and we continue to see forward momentum," said Donald M. Elliman Jr., chancellor of the University of Colorado Anschutz Medical Campus. "At CU Anschutz, our CU Innovations team embodies our collaborative spirit by connecting industry partners with our physicians and researchers in partnerships that lead to diverse projects spanning biomedical technology, novel therapeutics and medical devices. That creative collaboration had led to an increase in patent applications, and growing recognition of our campus as a dynamic hub for commercial innovations that are transforming health care and saving lives."
The report uses data obtained from the U.S. Patent and Trademark Office (USPTO) and highlights the vital role patents play in university research and innovation.
Published annually since 2013, the report ranks the top 100 universities named as first assignee on utility patents granted by the USPTO in the 2019 calendar year.
"The institutions included in this year's report are leading innovation worldwide through their encouragement of academic discovery and invention," said Paul R. Sanberg, NAI president. "We are proud to collaborate with the IPO for the eighth consecutive year to highlight universities that have made critical contributions to society."
There are 57 member institutions of the NAI represented this year in the Top 100. They hold an aggregate total of 4,685 patents spanning a wide variety of fields, such as medicine, technology and engineering. The IPO Top 300 Patent Owners List, published annually since 1985, ranks organizations worldwide that received the most U.S. utility patents during the previous calendar year.
This year's report on 2019 patents, published May 18, lists the total number of patents for 2019's Top 100 universities (including U.S. and international universities) to be 7,873, an increase of 1,046 patents over the previous year.
"University patents ignite a culture of growth and innovation which in turn stimulates the economy," said Jessica Landacre, IPO executive director. "The Top 100 Worldwide Universities Granted U.S. Utility Patents demonstrates which institutions excel in this arena."