STORY
University of Colorado Cancer Center researchers receive $3.5 million grant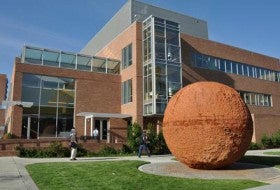 Researchers at the University of Colorado Cancer Center (UCCC) will use a new $3.5 million grant to screen 2,000 advanced lung cancer patients for a cancer biomarker called epidermal growth factor receptor (EGFR) during the next two years.
The patients will be enrolled in two international Phase III trials of a new human EGFR antibody — a so-called targeted drug that may help traditional chemotherapy work better against tumors that exhibit the receptor.
"This grant is certainly a recognition for our previous work related to EGFR biomarkers in lung cancer," said grant leader Dr. Fred R. Hirsch, M.D., Ph.D., UCCC researcher and professor of medical oncology at the University of Colorado School of Medicine. "We have a good infrastructure here that has been built up over many years through similar studies."
The grant will involve the labs of Hirsch and UCCC researchers Wilbur Franklin, M.D., professor of pathology at the School of Medicine; Marileila Varella-Garcia, Ph.D.; and Paul A. Bunn Jr., M.D., professors of medical oncology at the School of Medicine. The quartet were the first to create a specific gene test for EGFR-targeted agents such as antibody therapy, and since then have risen to be among the world's top experts in testing patient tumors for gene problems that can be targeted with drugs.
Hirsch and his colleagues' January 2009 paper in the Journal of Clinical Oncology demonstrated that EGFR gene copy number can predict whether patients will benefit from treatment with EGFR antibodies. Also in 2009, Bunn was awarded a $5.2 million, American Recovery and Reinvestment Act (ARRA) Grand Opportunities Grant to develop the 13-center Lung Cancer Genetic Mutations Consortium, which is currently testing advanced lung adenocarcinoma patients in the United States for a range of known mutations.
In the international INSPIRE and SQUIRE clinical trials, of which Hirsch also is co-principal investigator, researchers want to figure out which subgroups of lung cancer patients will benefit from a new human antibody, which is less toxic and may work better than the anti-EGFR drug cetuximab, Hirsch says.
"The beauty of this grant is the possibility of synergy with other similar activities underway at UCCC," he said. "We will also be able to explore new technologies for determining EGFR protein expression and gene copy expression, really cutting-edge tests we are currently evaluating in our labs."