STORY
Udi's opens healthy food option in Business School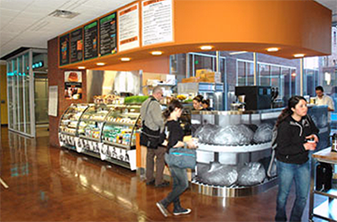 Linda Theus-Lee, a program coordinator in the Business School, surveyed the fresh-baked items on display at the just-opened Udi's Bread Cafe and Juice Bar before deciding on a sausage-and-cheese breakfast burrito.
"Sometimes we don't come out of our offices to go anywhere, so it's nice to have something down here to kind of indulge ourselves," she said of the Udi's. "And it's healthy."
Udi's opened a new concept store Tuesday morning in the Business School's main floor lobby, 1475 Lawrence St.
The cafe and juice bar offers grab-n-go selections that are featured at other Udi's restaurants, such as panini sandwiches, breakfast burritos and salads, but also items that are specialized for this location, including the juice and smoothie bar, cream cheese-iced cinnamon rolls and chocolate croissants.
"We're baking everything here -- everything you see here was baked fresh this morning," said Robin Bar-on, Udi's owner-partner. Even though the Business School store is smaller than a typical Udi's, she said, "We've really packed a lot in. It really is kind of showcasing how robust the company is."
To accommodate customers, the cafe is adjacent to a casual seating area.
"We chose to work with Udi's because it is a Colorado-based business, and it is a perfect fit for our Business School building," said Maria Portelli, director of Campus Support Services for the University of Colorado Denver | Anschutz Medical Campus. "We are especially excited about their intention to incorporate their new 'juice bar' concept in this space."
The juice bar includes fresh-squeezed juices and blended smoothies. "It's healthy, it's delicious and you feel great," Bar-on said. "I don't know why more people aren't doing it."
Udi's also operates a location on the Anschtuz Medical Campus on the ground level of Research 2: http://udisfood.com/cafes/Udi-s-Bread-Cafe-at-Anschutz-Fitzsimmons.
Customers also will find Udi's popular gluten-free sandwiches and soup of the day, as well as a wide selection of salads, breakfast items and coffee bar.
Bar-on said Udi's will open a second bread cafe and juice bar at Colfax Avenue and Elizabeth Street in February.
The Business School store is open 7 a.m. to 3 p.m. Monday through Friday. Call 303-534-5299 or go to www.udisfood.com.