STORY
UCCS ready to move forward on sports and performance center following state approval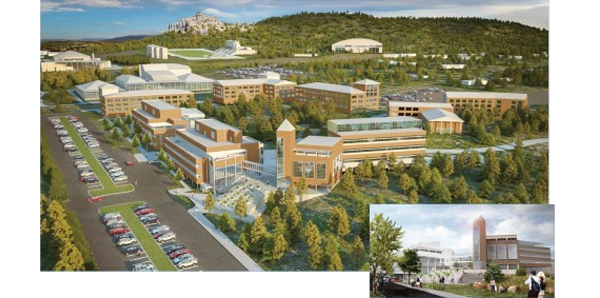 UCCS will move forward with planning for a new sports and wellness center on North Nevada Avenue following a Sept. 11 vote of the Colorado Economic Development Commission.
The unanimous vote approved final details of an agreement for $120.5 million in state tax incentives for the Colorado Springs City for Champions project.
"We are thrilled by the vote taken by the Office of Economic Development and International trade today to approve the City for Champions proposal," said Chancellor Pam Shockley-Zalabak. "This is a giant step forward for our community."
UCCS will now aggressively start the planning and implementation of the sports medicine and performance center in what is being labeled the Health and Wellness Village on North Nevada Avenue. In February, the Lane Center for Academic Health Sciences became the first building in the Health and Wellness Village.
Nine months ago, the state approved the city's application for Regional Tourism Act dollars to help pay for construction of a downtown Olympic museum and adjacent sports and events arena, the UCCS sports medicine clinic and a visitor center at the U.S. Air Force Academy.
The Sept. 11 resolution requires 42 percent of any state sales tax revenue allocated to the projects go to the Olympic museum, 23 percent to the sports complex, 14 percent to the sports medicine center and 5 percent to the visitors center.
The remaining 16 percent of the funding is being withheld until substantial work has begun on the Olympic museum. The Colorado Springs Urban Renewal Authority will be the intermediary for state money and will be able to allocate the money to any of the projects or to ancillary projects associated with the museum and arena.
The city of Colorado Springs is expected to conduct a celebration in October to kick off the projects.