STORY
UCCS, CSU-Pueblo basketball teams to square off in Downtown Classic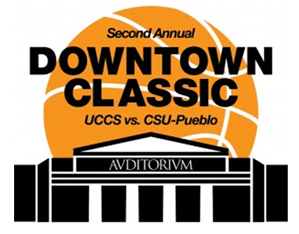 The Downtown Classic returns to the historic Colorado Springs City Auditorium Feb. 8, when UCCS takes on Colorado State-Pueblo in a Rocky Mountain Athletic Conference basketball doubleheader.
The women will tip at 5:30 p.m., with the men to follow at 7:30 p.m. Tickets are on sale at GoMountainLions.com and are $10 for adults and $5 for children, seniors and military members. UCCS faculty, staff, students and alumni can pick up their tickets at the University Center Information Desk.
This year's event will feature new improvements to the historic City Auditorium, 221 E. Kiowa St. The floor is being refinished and available scoreboards and collegiate-level baskets will allow the City Auditorium to bring back basketball games in the future.
"After the success of the inaugural event in 2013, we wanted to further enhance the experience for our student-athletes and fans," said Steve Kirkham, athletic director. "These improvements are the first of what will hopefully be many improvements made to this historic downtown facility."
Last year's event featured a temporary SportCourt surface from USA Volleyball, loaned baskets from the Air Force Academy and a temporary scoreboard system. Because the facility didn't meet minimum requirements for NCAA competition, UCCS was assessed an administrative technical foul at the start of both games. The new scoreboard and baskets will directly address the NCAA requirements while the floor will directly address student-athlete safety.
Greeneco began refinishing the court Jan. 11. The scoreboard system from Daktronics will ship on Friday and the baskets from Porter will ship on Jan. 30.
"It would be great to see the old high school game of the week back downtown," Kirkham said. "It's a wonderful arena in the heart of downtown Colorado Springs, and we're excited that we can help in the renovations."
UCCS and CSU-Pueblo will meet for the second time this season in the Downtown Classic. The Mountain Lion men are on one of their best starts in program history and won the first meeting between the two teams Jan. 4, 101-93. The UCCS women, led by one of Division II's best scorers in Abby Kirchoff, fell by one point to CSU-Pueblo, 65-64.
Sponsorship opportunities are available for business and organizations interested in sponsoring the annual event. Please call the UCCS Athletic Department, 255-3601, for more information.
The Colorado Springs City Auditorium opened in 1922 after a general election vote in 1921 approved a $390,000 bond measure. The Strategic Plan for the Revitalization of the City Auditorium has identified the most needed upgrades to the facility to enhance the future use of the building and establish it as a viable public events venue in downtown Colorado Springs.