STORY
Three systemwide policy changes approved
Two took effect Friday; one delayed pending Board of Regents action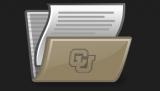 The Office of Policy and Efficiency (OPE) has announced revisions to the following administrative policy statements (APSs):
1. 3002-Capital Construction Planning and Projects (Effective Aug. 14, 2020)
2. 5014-Sexual Misconduct, Intimate Partner Violence, and Stalking (Effective Aug. 14, 2020)
3. 8012-Special Tuition Status (Effective date expected to be Sept. 10, 2020)
Pending approval of related Board of Regents resolution.
These changes were reviewed by the campus chancellors and approved by President Mark Kennedy on Aug. 6, 2020.
For more detailed information, go to https://www.cu.edu/ope/aps/latest-changes.
For more information on systemwide APSs, go to: http://www.cu.edu/ope.