STORY
Three CU employees win iPads in Financial IQ Challenge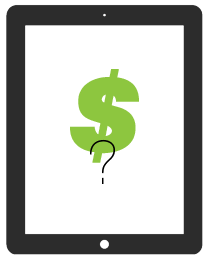 More than 2,800 University of Colorado employees tested their financial IQs in November, but only three are taking home more than the knowledge they gained as a result.
Cynthia Clark, Randy Knutsen and Stephanie Vetter won name-brand tablet computers in the random drawing of employees who participated in the CU/TIAA-CREF Financial IQ Challenge. The three increased their odds of winning by completing all 15, five-question sessions — each of which earned them an entry into the drawing.
"I'm thrilled about the (tablet). I'm just stunned," said Clark, a graduate program assistant in CU-Boulder's Department of Linguistics. She took the quiz without realizing there was an additional incentive.
"I would have taken the quiz anyway," she said. "I just thought it was a fun thing to challenge myself with every day."
The quiz, designed to help employees assess and improve their knowledge of everything from taxes to retirement, kept participants on their feet with questions that became progressively more challenging, said Vetter, a senior professional research assistant in CU Anschutz's Department of Psychiatry.
Instead of penalizing participants for wrong answers, however, Vetter said the quiz offered thorough explanations of the correct responses and links to explore topics in more depth.
Quiz participants scored an average of 73 out of 100 points, with about 44 percent of participants completing all 75 questions. Men scored a full 11 percentage points higher than women, at 78.33 and 67.44 respectively. And with few exceptions, results showed the older the employee, the better the score. (The 25-34 age bracket scored lowest.)
Knutsen, an instructor at Anschutz's School of Pharmacy who said he was surprised by how well he did on the quiz, credits at least some of his performance to his work with a professional financial planner.
While the quiz has ended, Clark said it's given her a lot to think about, particularly when it comes to retirement. At 61, she said retirement may be on the horizon, and the quiz revealed that she has much to learn in that area.
"There are things you deal with every day, like interest rates," Clark said. Retirement, on the other hand, requires long-term focus, she noted.
Keep your financial IQ strong by brushing up on retirement and dozens of other financial topics through free financial books, available in the CU employee portal. Look for one-on-one counseling sessions with CU retirement-plan sponsors on your campus. (Next event: CU-Boulder, 10 a.m. – 4 p.m. Wednesday, December 18)