STORY
Tebow puts foot forward for CU Cancer Center benefit
Auction of pink cleats will boost breast cancer research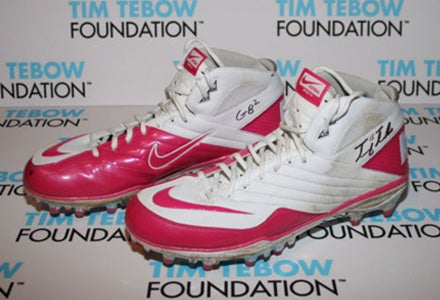 When Tim Tebow takes the field as starting quarterback for the Denver Broncos on Sunday, he's poised to make an impact on the field of play. He's also poised to make an impact on the field of breast cancer research.
This week, the Tim Tebow Foundation, in partnership with XV Enterprises, is auctioning off the hot pink cleats the quarterback wore during the Oct. 3 Broncos-Tennessee Titans game. The auction benefits breast cancer research at the University of Colorado Cancer Center.
The CU Cancer Center has the largest breast cancer research program in the Rocky Mountain region. The center is known for research about how hormones drive breast cancer, identifying genes that cause breast cancer to invade and spread, and the association of breast cancer and pregnancy. The center's women's cancers group holds $7.2 million in research funding today.
The center's breast cancer clinical research program, headquartered at the Dianne O'Connor Thompson Breast Center at University of Colorado Hospital, has the best five-year survival outcomes for breast cancer in the state, particularly for late-stage patients. The program currently has 17 clinical trials available for breast cancer patients, many of them only available at the center.
The "Cleats for a Cure" auction on eBay launched Monday and ends at 6:43 p.m. Monday, Oct. 24. The auction winner receives the autographed cleats plus an autographed photo of Tebow wearing the cleats.
You can bid on the cleats and breast cancer research at the CU Cancer Center on eBay, here:
http://www.ebay.com/itm/Tim-Tebow-Broncos-Game-Used-Pink-Cleats-Cure-Tim-Tebow-Foundation-/260872978103?pt=LH_DefaultDomain_0&hash=item3cbd3dbeb7