STORY
Summer enrollment up 6 percent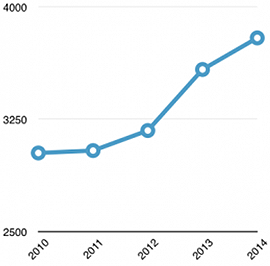 UCCS summer enrollment increased by 211 students, an almost 6 percent increase from a year ago, according to a June 16 report.
The Office of Institutional Research provided enrollment data following the official census date for summer enrollment. There were 3,793 students enrolled for the summer 2014 semester compared to 3,582 students last summer, a 211 student or 5.9 percent increase.
Students enrolled in 22,099 credit hours in summer 2014 compared to 20,909 last summer, an 1,190 hour or 5.7 percent increase.
"UCCS continues to be a popular choice for students seeking high-quality academics, a vibrant campus life and affordable tuition," said Homer Wesley, vice chancellor, Student Success and Enrollment Management. "The Student Success Division appreciates the support of many on campus who provide such a positive educational experience."
The largest increases in summer enrollment were in continuing students (5.9 percent), graduate students (4 percent) and transfer students (22 percent).
Wesley attributed the increases to more students who are focused on efficiently completing their education and the attention of academic units to ensuring more class spaces are available to meet student demand. Adding a third semester to the traditional academic year allows students to either finish more quickly or to take a lighter course load during the fall semester, often an important factor for those students who balance job or family responsibilities.
Applications for fall semester remain strong, Wesley said. He encouraged faculty and staff to continue to support orientation sessions throughout the summer and to be vigilant in encouraging students to enroll.