STORY
Study: Changes in health insurance status linked to rise in ER use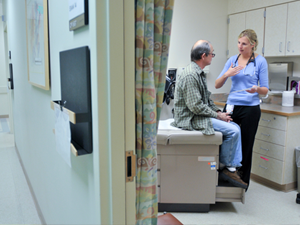 Recent changes in an individual's health insurance status – whether they are newly insured or recently uninsured – are associated with greater use of hospital emergency departments, according to a study led by researchers at the University of Colorado School of Medicine.
Health care reform in the United States will lead to an increase in newly insured adults and the study predicts an associated surge in visits to already crowded emergency departments (ED). Tough economic times have caused an increase in the number of people losing their benefits and that also means more people are turning to the ED for care.
"With most EDs already at or above capacity, additional volume will threaten patient safety, let alone the ability to respond to a pandemic or a natural disaster," said the study's lead author Adit Ginde, M.D., MPH, assistant professor of emergency medicine at CU School of Medicine.
Adults that had a recent change in insurance status, in both directions, had greater use of the ED: Newly insured adults had 32 percent higher ED use compared to continuously insured adults. Similarly, newly uninsured adults had 39 percent higher ED use compared to continuously uninsured adults.
The authors discuss several reasons for the increase in ED use including difficulties in accessing primary care providers. Because of the obstacles, adults with newly acquired insurance are visiting the ED more often and the study found Medicaid patients were the most vulnerable. If someone with insurance cannot be seen in the outpatient setting, they will often head to the ED instead. Those who experience an abrupt loss in insurance also turn to the ED for care, as they often have nowhere else to turn for their medical needs.
"Health care administrators and policymakers have to find ways to continue to meet the demand for care in hospital EDs and in the outpatient setting.  New Medicaid patients have the hardest time finding available providers, and we found that this was associated with the highest need for ED services," said Ginde.
Federal health care reform seeks to provide new insurance to some 32 million Americans, over half of which will be Medicaid. Instead of reducing demand on EDs. Ginde said reform will continue to trigger new surges in ED volume.
In an editorial published along with study findings, Mitchell H. Katz, M.D., of the Los Angeles County Department of Health Services, California, who was not involved with the study, concludes: "The ED should not be the default option because other places are not open or are open only to those with the right billfold. Before the insurance expansion occurs, we need to expand the capacity and capability of primary care, including extended hours and same-day appointments, so that EDs can do their job of triaging and caring for the acutely ill or injured."
The study was published Online First by Archives of Internal Medicine, one of the JAMA/Archives journals. The article is part of the journal's Health Care Reform series.