STORY
Students, faculty, staff get kick out of Funny Field Day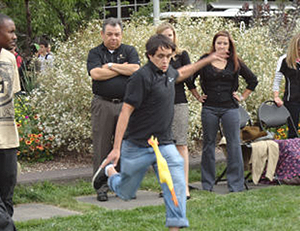 Funny Field Day 2012 was a big hit with students, faculty and staff alike. Tuesday in front of St. Cajetan's on the Auraria Campus, the Office of Student Life put together numerous events for everyone to participate in including a 40-yard dash – in high heels! Then there was the marble stack challenge. For every participant, there was a $5 coupon to one of the many food trucks on campus.
The highlight of the day came in the Office Olympics, in which four departments competed. The Community Standards and Wellness (CSW) office, Student Affairs, Student Life and the Academic Success and Advising Center (ASAC) -- all got in on the action.
The five Olympic events: coffee mug relay; a 'drag race' that required participants to don clothing of the opposite sex; the rubber chicken punt, pass and kick; a 40-yard-high heel dash/wheel barrel race; and a ping-pong toss.
The challenges brought out the competitive side in all of the teams with the Student Affairs team calling others "cheaters" from last year and the CSW office boasting, "We are the defending champs from last year! We won two different medals we have to defend."
Raul Cardenas, associate vice chancellor for Student Affairs, was overheard confiding, "I am not putting on high heels" when approached about doing the regular 40-yard dash.
Through the first four events teams CSW and ASAC were neck-and-neck for first place but CSW ended up pulling out the win after dominating the rubber chicken punt, pass and kick challenge.
They won lunch for the whole team provided by Student Life.
"This is just a bit of fun for people on a kind of gloomy day," said a passerby.
For more fun events like Funny Field Day contact the Student Life office.