STORY
Students design, present plans for affordable housing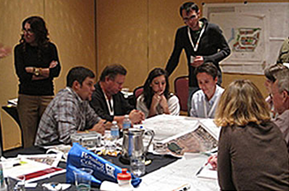 Students in the interdisciplinary Urban Housing course taught this semester by College of Architecture and Planning Instructor Jennifer Steffel Johnson took on a task to research, facilitate and design three affordable housing charrette projects.
The results were presented at the Housing Colorado Now! Conference in Vail in October.
Charrette is defined as the intense final effort made by architectural students to complete their solutions to a given architectural problem in an allotted time or the period in which such an effort is made.
To realize the assignment, three student teams, in the Masters of Urban and Regional Planning program (MURP), worked with an actual housing authority client. On each team were planning, architecture and landscape architecture students led by a pair of professional architects. The goal was to develop innovative affordable housing on three very different sites in Colorado: a 9-acre suburban site in Fort Collins, a 5.5-acre rural site in Estes Park, and an urban site in Denver.
Each site had its own assets and challenges. The students spent weeks leading up to the presentation by conducting extensive research and participating in community engagement meetings. Their groundwork set the stage for the three-day charrettes, which brought together design, finance, construction and development professionals, as well as staff of the respective housing authority clients.
Architect Tim Van Meter, team leader for the Denver-site project, noted, "The charrette was a success thanks to the student involvement. The common elements of the outstanding students on our team were: initiative, leadership, and willingness to engage maybe outside their comfort zone. I liked the diversity of the student team. Each professional element brought something to the team to advance the project."
Said Rita Kurelja, representing one of the clients, "On behalf of myself and the entire Estes Park Housing Authority, I thank you all for your time, dedication and amazing vision while working on our project. It was truly inspiring to see all that could be accomplished when such great minds and talents came together for a common cause."
The charrette boards produced by the student teams will be on display in the Dean's Suite, CU Denver Building, 1250 14th St., through Friday.