STORY
Student dance raises more than $7,000 for nonprofit children's cancer organization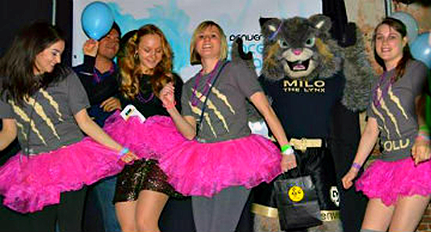 CU Denver students recently 'put on their dancin' shoes' and kept time to the music as part of an effort to raise money for Brent's Place.
The mission at Brent's Place is to help children living with cancer by providing housing and programs through community partnerships. At Brent's Place families are offered hope and healing when facing the most demanding time of their lives. This nonprofit organization supports children with cancer and life threatening illnesses by providing housing at no cost to the families.
Last summer, a group of CU Denver students started planning an event to raise money for Brent's Place. The result was a Dance Marathon, held last month on the Auraria Campus. The planning team included five undergraduate students, two recently-graduated CU alumni and a staff adviser.
Staff adviser Nelson Rodriguez said, "We had a rigorous application and selection process to identify our beneficiary, Brent's Place. . . After narrowing it down to a top three, we felt Brent's Place was a great choice for us."
Committee member Fatima Moumen said, "Along with the committee's hard work, passion, and drive, the event was put together with zero budget. Performers, deejays and food vendors all donated their goods/services free of charge."
When the music ended, participants had raised $7,502. Business student Luisa Harms (center of photo above, on Milo the Mascot;s right) raised $1,115 to win the grand prize for top individual fundraiser which was a pair of tickets to the Robin Thicke concert along with a watch. Second top fundraiser Rebecca Elmore, a graduate student and SACAB representative, raised $717.
The top fundraising teams were:
--Student Government Association (SGA): $1737
--Business Student Ambassador Committee: $1350
--The Pace Makers: $435
With one successful event wrapped up, Moumen said, "The Dance Marathon committee is hoping it will start a new tradition on campus for an annual dance marathon."  You can Follow the progress on facebook.