STORY
STEMapalooza to stimulate young minds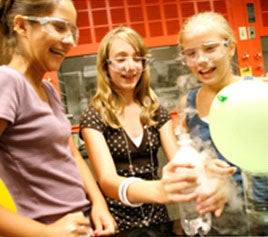 Connecting leaders of today and tomorrow in STEM (science, technology, engineering, math) education and business, the University of Colorado Denver STEMapalooza opens its doors to the public Oct. 8 and 9 at the Colorado Convention Center.
In its third year, the free event celebrates STEM learning and teaching, facilitates networking opportunities with business leaders and policy-makers, fosters educational partnerships and enlivens the minds of students of all ages.
Colorado expects to see a 20 percent growth rate in STEM occupations through 2015, according to the Colorado Workforce Development Council. UC Denver recognizes that a powerful way to develop the state's workforce is to start early – by engaging the imaginations of students in math, the sciences, and in future careers in STEM fields.
The event provides an opportunity for students, parents and teachers to dive into hands-on, "minds-on" activities including robotics, gaming, rocketry, staging and film production. For businesses and organizations, STEMapalooza also provides an ideal setting for industry leaders to network, engage policy-makers in discussion, and learn more about the latest STEM initiatives throughout Colorado.
A lunch at 11:30 a.m., Oct. 8, will host a panel of experts in STEM business, health care, education and municipal development. CU Regent Monisha Merchant will serve as facilitator/moderator for the panel, which includes Allegra Millelo, M.D., M.S. (family medicine) and director of the Aurora Lights program at the Anschutz Medical Campus; Richard Duke, a founder and former CEO of GlobeImmune; and other notables.
STEMapalooza sponsors include Wavelinks arts group and contributing sponsors/exhibitors such as Lockheed Martin and United Launch Alliance.
"There are many Colorado companies and organizations that are involved in STEM initiatives, but there is a need to connect the dots of these multiple activities," said Gary Barbosa, director of human resources at Lockheed Martin. "Especially during the current economy, it is vital to consolidate efforts, align our priorities and to be able to deliver more for less."