STORY
STEM scholarships offer career boost to military students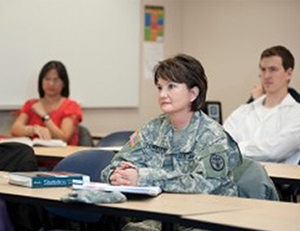 Military students interested in careers in science and technology will be eligible for a new scholarship.
The University of Colorado Colorado Springs will offer about 30 scholarships annually for past and current military service members interested in pursuing degrees in science, technology, engineering or mathematics.
Lisa Hines, assistant professor, Department of Biology, and Jugal Kalita, professor, College of Engineering and Applied Science, will lead efforts on a four-year $550,000 National Science Foundation Grant designed to assist talented students who demonstrate financial need to study science and technology fields and eventually enter the workforce.
"We hope to help our service members acquire a professional career, rather than just a job," Hines said recently. "Many military service members already have training and experience with advanced technologies, so careers in these fields would be an ideal fit. However, the transition back to the academic setting can be difficult for various reasons. The goal of this grant is to assist with a smoother transition for this well-deserving population."
Scholarships, up to $10,000 annually with the potential to renew, will be awarded based on financial need and a student's interest in pursuing an undergraduate STEM degree. These areas include biology, chemistry, physics, mathematics, geography and environmental science, computer science, or computer, electrical, mechanical or aerospace engineering.
Eligibility for the scholarships will include military veterans and members from all service branches, including reservists. Awards will supplement any education benefits provided by the military or Veterans Administration and are not limited to tuition and fees. Recipients must meet UCCS requirements for admission which includes completion of high school (or GED) and entrance exams such as the ACT or SAT.
For scholarship application and details, contact Jennifer Fisher, Office of Student Financial Aid and Scholarships, 719-255-3460 after Friday, Sept. 28. Students may apply by visiting http://finaidse.uccs.edu/scholgate.shtml.