STORY
State lawmakers set to consider next year's higher ed budget
Faculty Council hears update in advance of 2021 legislative session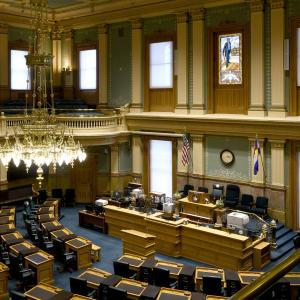 The Colorado Legislature's Joint Budget Committee (JBC) on Monday officially begins considering funding for higher education in the 2021-22 fiscal year, forecasts for which continue to be clouded by the impact of the pandemic.
Todd Saliman, senior vice president for strategy, government relations and chief financial officer, previewed the state's budget process for the Faculty Council during its Dec. 3 meeting, which was held remotely. The meeting also featured State of the University remarks by President Mark Kennedy.
Saliman noted that it's still very early in the state's budgeting process, which began with last month's budget request by Gov. Jared Polis. Following Monday's briefing for the JBC, a full briefing with higher education leaders is scheduled for Jan. 11.
The governor's request reinstates funding that was cut once the pandemic hit earlier this year, taking CU and other higher education institutions back to 2019-20 fiscal year levels of state support.
"The challenge is that it still doesn't get us back to where we would have been, and we of course have inflationary costs," Saliman told the council. State revenue is stronger than many had expected, Saliman said, and potential federal relief funding could help as well, though nothing is yet certain. "There are more questions than answers at this point."
Among those questions: changes to compensation. The governor's budget request called for flat funding for state employees, though the JBC in theory could call for increased pay. "For us, in terms of compensation, we usually follow the state's lead," Saliman said.
In his address, President Kennedy took stock of the implications of "five formidable forces": the pandemic, the ensuing recession, unrest over social injustice, political divisiveness and tech-celeration, the rapid increase in reliance on technology for work and education.
"I am in awe of the collective efforts that everybody has put forth, and how they enable CU to rise to these challenges and continue to benefit Colorado, the Rocky Mountain region and beyond," Kennedy said. "I fully recognize the toll the stress of the pandemic has taken on you, your loved ones and the entire CU community. People are working harder than ever. Faculty are adapting to course delivery methods that are more demanding, not less, as is the popular misperception."
For more on the president's State of the University, see today's CU Connections Spotlight.
In other business at the Dec. 3 Faculty Council meeting:
Theodosia Cook, chief diversity officer for the CU system, led an update on a planned diversity climate survey. The last such systemwide survey in fall 2019 had a 14% response rate; stakeholders are discussing which survey vehicle to use next, when best to launch it and how to effectively market it to the university community. Cook also reminded the council of the systemwide CU Social Justice Summit, set for Feb. 5.
CU Treasurer Dan Wilson updated the council on the university's Faculty Housing Assistance Program. The benefit consists of two loan programs available to tenure and tenure-track faculty: a shared-appreciation loan (30 years) of up to $100,000, which is essentially free of interest; and a loan guarantee, where CU acts as an additional party in a loan from lender to home buyer, guaranteeing the loan up to $100,000. A third-party program launched earlier this year is available to CU employees for down-payment assistance.