STORY
State improves college affordability for Olympic athletes
CU-supported bill signed into law; governor also signs free speech legislation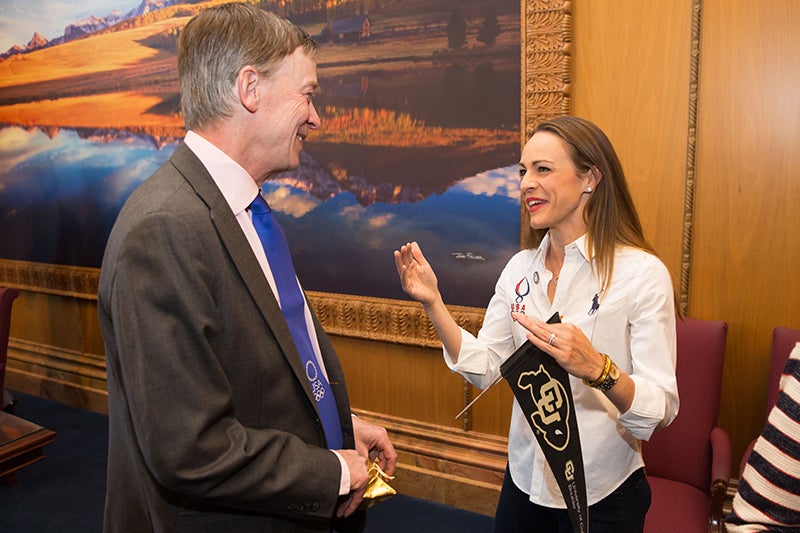 Olympic athletes training in Colorado will have greater access to more affordable college tuition now that House Bill 17-1081 has been signed into law by Gov. John Hickenlooper.
The first-of-its-kind legislation, backed by the Colorado Springs-based United States Olympic Committee and the University of Colorado, allows state-supported institutions to offer in-state tuition to Team USA athletes who train in Colorado, regardless of permanent residency. The law is permissive, so participation is not required.
To be eligible, athletes must participate in a Colorado-based elite-level training program that is approved by the USOC and a national governing body of an Olympic, Paralympic, Pan American or Parapan American sport.
A bipartisan effort sponsored by Sen. Stephen Fenberg, D-Boulder, and Rep. Dan Nordberg, R-Colorado Springs, the bill could benefit an estimated 350 Olympic athletes who live and train in Colorado, an increase from the nearly 40 athletes who took advantage of in-state tuition in 2016. Under the former law, in-state tuition only was offered to Team USA athletes who trained at the Olympic Training Center in Colorado Springs, with nearly 200 athletes benefiting from the program since 2013.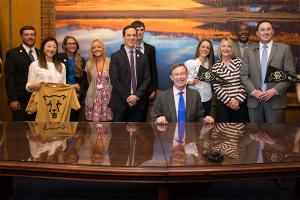 Hickenlooper signed the bill into law on April 13 in a ceremony at the Capitol that included several CU representatives, including Regent Sue Sharkey and UCCS Vice Chancellor for Student Success Sentwali Bakari. UCCS student Olympic athletes Dale Royer and Mirai Nagasu also appeared, as did CU Boulder alumna Jenny Simpson. The Olympic track athlete won the bronze medal in the 1,500 meters event at last year's Rio games, making her the first American woman to medal in the race.
"We are thrilled to offer more American athletes the opportunity to pursue higher education through this legislation," USOC CEO Scott Blackmun said in a news release. "Access to affordable education while training and competing will help athletes be better prepared to enter the workforce and successfully transition into a career after retiring from elite competition."
Earlier this month, the governor also signed into law Senate Bill 17-062, which prohibits public institutions of higher education from limiting or restricting student expression or forums. The legislation was sponsored by Sen. Tim Neville, R-Littleton; Rep. Jeff Bridges, D-Greenwood Village; and Rep. Stephen Humphrey, R-Eaton.
CU and other institutions still may enforce parameters regarding time, place and manner so that protests and demonstrations do not interfere with the teaching and research mission.