STORY
Staged emergency allows practice in threat response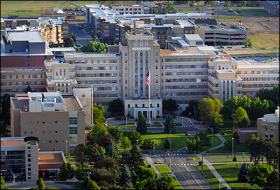 Threatening scenarios were staged Thursday in the University of Colorado Hospital Outpatient Psychiatric Services Clinic on the second floor of Building 500 on the Anschutz Medical Campus. The goal was to increase understanding for managing emergency response as part of the university's overall approach of preparing for emergencies through awareness and practice.
The activity involved three separate situations being played out, each followed by a debriefing of what had been observed, what actions individuals had taken, how information had been shared and what were the take-aways.
"We helped to plan and conducted the exercise," Emergency Manager Stu Pike said. "We are the catalysts but the staff in the clinic provided the context." As Pike introduced each scenario he emphasized, "This is designed to be a learning experience."
Police Chief Doug Abraham reiterated the message and urged participants to "react to these scenarios as if they are real." Police officers also engaged in the activity by approaching the situations as if they'd received emergency calls.
Altogether, nearly 75 participants were assigned roles. Counselors simply followed regular routines by conducting sessions with mock patients, while other volunteers portrayed patients in the waiting area and a few took on roles as family members of a distraught patient, including two children.
The first scenario depicted a telephonic threat by a simulated patient. It was phoned in to several counselors. The second scenario depicted a bomb in a backpack left by a patient in the clinic's waiting area. In the final exercise, a distraught father with his family pulled out a (simulated) gun and fired shots.
Clinic Director Robert Feinstein, M.D., thanked participants and acknowledged, "We have procedures in place, and our staff is trained. So, we're alert to people having problems, but the exercise resulted in tons of learning for the staff, especially since the group has had some situations in the past several years. This is an opportunity for us to fine tune our processes."
Joining the Anschutz Medical Campus-based participants were representatives from CU Denver as well as Auraria Campus emergency response personnel. Just last month, the Auraria Campus emergency preparedness hosted a 'table top' exercise. That session brought together campus emergency and health services personnel, administrators, communicators and others around response to a scenario in which a dangerous chemical spill occurred in the Science Building.
Other groups at either the Anschutz Medical Campus or Denver Campus that are interested in more information or exploring options for similar emergency preparedness exercises are encouraged to contact Stu Pike or Essi Ellis.