STORY
Staff Council focuses on upcoming election, benefits update at open house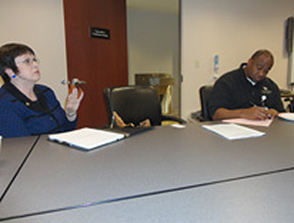 ​All CU Denver l Anschutz Medical Campus staff were invited to join the conversation Tuesday during an Open House hosted by Staff Council at the Lawrence Street Center.
Members of this governance group are classified staff who serve as elected representatives to the chancellor of the University of Colorado Denver l Anschutz Medical Campus, CU Board of Regents, president of the university, administrative officers and the State Personnel Board.
"Being a member of Staff Council is a chance to represent your own opinions and those of your co-workers," said Roland Gabeler, Information Technology Services representative to Staff Council. "While it's also important to express an opinion, know that it is not a guarantee things will change." But he also emphasized that university administrators do support the overall work of Staff Council.
In anticipation of this spring's election cycle, Deborah Makray, chair, offered a reminder that individuals can self-nominate to run for election to Staff Council. Terms are three years, members must attend monthly meetings and serve on established committees. "The elections this year are particularly important," said Makray, "because so many of our current members' terms are up."
Also on hand to advocate for participation was Joseph Martinez, Colorado Statewide Liaison Council, who is on staff at the Anschutz Medical Campus. This group represents higher education classified staff to facilitate communication among the classified staff of Colorado public higher education institutions and disseminates information based on exchanges between the council and other agencies.
Featured speaker at Tuesday's meeting was E. Jill Pollock, CU chief Human Resources officer and vice president (photo: screen left). Pollock encouraged staff to check for updates available online regarding policies and procedures. She also said to expect more information to be shared this spring about a new employee service in partnership with the School of Pharmacy that will help individual employees evaluate prescriptions called 'Rx Consult.'
Pollock also noted that the university is closely monitoring the Colorado Legislature for several PERA-related issues. On that subject, Pollock reminded the group about this Friday's CU Advocacy Day at the Capitol.
A helpful list of links to online information is available through the Staff Council website.