STORY
Staff Council celebrates contributions of those who go above and beyond
Eight were honored at Professional Development Day and Recognition Lunch
Eight University of Colorado staff members – representing each campus and system administration – were honored with Service Excellence Awards during the University of Colorado Staff Council's (UCSC) Professional Development Day and Recognition Lunch, April 26 at CU South Denver.
The awards, presented annually by UCSC, recognize staff members who have "gone above and beyond their job duties and have surpassed expectations."
Each honoree received a recognition plaque and a $250 prize. Award winners are:
Missy Sernatinger, First Year Experience Program Coordinator
University of Colorado Colorado Springs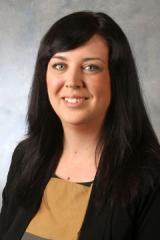 A year ago, Sernatinger switched positions at UCCS because she wanted to help instill the confidence in students needed to help them be successful in higher education. First-year students face many challenges, and during her time as program coordinator, many of those students have benefited from her commitment.
Last spring, a student's mother contacted the program, fearing her son was ready to drop out of CU. Sernatinger worked with the student and his family, and helped the student improve his grade point average (from 1.0 to 3.1). Now, that young man, one of many students Sernatinger has helped, is thriving at the university.
Sernatinger has worked for CU for more than three years; her previous position was residence experience coordinator. Her nominator, Ellen Burkart, said her relationships with students, Housing Operations front desk staff, resident assistants, and residence hall managers have been a catalyst to making steps forward to improving the partnerships with Housing and Residence Life.
Sernatinger also has led numerous workshops, and has partnered with various programs and staff members. She serves on many university committees and is always exploring ways to develop herself professionally.
She has been cross-training to assist with the configuration and maintenance of Starfish Early Alert, a platform that includes appointment scheduling as a feature. In just one year, the platform has seen a 67 percent increase in use for scheduling. Because Sernatinger believes so much in the platform, she will be the Starfish liaison for Student Success. "This plan would not have been a possibility without Missy's unique skill set, knowing student development and how student success units operate, coupled with her knowledge of technology," Burkart said in the nomination letter.
Ellen Burkart, interim senior executive director of Student Support and Retention and director of First-Year Experience and Parent and Family programs
UCCS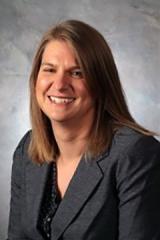 Ellen Burkart's nominator, Nick Lockwood, refers to her as "an exceptional professional who dedicates an extraordinary amount of time, energy, and commitment to providing support services to UCCS students, parents, faculty and staff."
As director of the First-Year Experience and the Parent and Family programs, she has built and facilitated the campus's early alert system in partnership with faculty, advising and multiple student support offices; hosts support workshops and student meetings; and is the university connection for parents, both before and during a student's enrollment.
In December 2018, Burkart took over as the interim senior executive director of Student Support and Retention as well. She helped craft the Orientation and Parent and Family guide and calendar, a 36-page document that includes financial, academic and student involvement dates, campus resource descriptions and a guide for new students. For the past four years, she has volunteered her time to design the calendar in partnership with the orientation office.
In addition, she serves on the University Budget Advisory Committee; spearheaded the development and implementation of Starfish, the early alert program that supports students with academic, social and personal concerns; and is a member of Association of Higher Education Parent/Family Program Professionals.
Burkart is a Colorado native and outdoor enthusiast, and often can be found hiking or camping.
Tanya Cohen, manager of Litigation Operations
CU system administration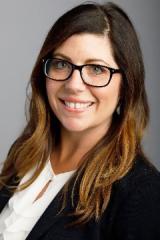 Cohen is a master task juggler and works long hours, but she always greets coworkers with a smile. She's always "looking for ways to improve efficiency and make people's jobs easier," says her nominator, Tara Dressler. Add to that, says Dressler, a great sense of humor, a compassionate soul and a big heart.
Some of Cohen's work duties include vetting software options for the litigation team. In the past year, she was a direct supervisor to a paralegal, and has filled in when needed as the litigation team moves through a transition.
Not only has she done a wonderful job on on-boarding, but the training that she provides is invaluable, Dressler says. "She is very good at explaining things that need to be done in a way that people understand, and so it is not overwhelming. … She goes the extra mile to make sure that things are being communicated properly and provides support both in subject matter and as a mentor."
In the past year, as the litigation team went through a transformation, Cohen filled in when needed and offered to take on tasks that were out of her normal responsibilities to keep the team afloat.
Cohen also is a member of the System Staff Council, serving as vice chair during the past year. Her special interests outside of work include volunteering for animal welfare and rescue organizations, and community outreach.
Andrea Holland, acting assistant director of Relationship Management
CU system administration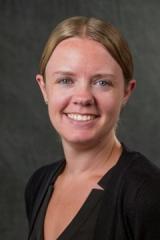 Over the past year, Holland has taken on new roles and responsibilities. She participated in the hiring of two staff members and has implemented development opportunities for her new coworkers; lightened the workload of colleagues by identifying tasks she can take on; and assisted with the budget planning process. "She is a huge part of the reason the team was able to maintain their positive, supportive, innovative dynamic during times of change and crisis," said her nominator, Sara Wuorinen.
She leads a walking club and book club in the office; participates on the Staff Appreciation Committee, bringing fun ideas to the office to keep up morale and office engagement; serves on the board of Apra Rocky Mountains; and has engaged in more than 160 hours of training for central and campus staff on topics such as contact reports, prospect management, and other business operations. She co-created a Beginner Advance Training, a monthly three-hour session for new employees, and is considered a subject matter expert when it comes to prospect management and other best practices.
"I've never seen anyone able to build and maintain relationships like Andrea," Wuorinen said. "She goes out of her way to engage with staff on an individual level and truly excels at creating partnerships among the office and campuses. She instills trust in others and her openness, honesty, and transparency serves the office well in our relationships with the campuses."
Erika Sandoval, Organizational and Employee Development Manager
University of Colorado Boulder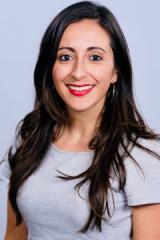 Sandoval joined Housing and Dining Services (HDS) four years ago to provide bilingual training to Spanish-speaking employees. In that time, she also has created opportunities specifically designed to empower and encourage those same employees. She coordinates foreign language initiatives, including interpretations and translations for Spanish, Nepali and Mandarin staff members to ensure they have access to important information in their primary language. She also established a Spanish and a Nepali support group to help these language learners navigate an English-only environment. In addition, she works with employees affected by Deferred Action for Childhood Arrival (DACA) and Temporary Protected Status (TPS) rules, helping them navigate complex legal and logistic issues.
"Erika is a vital part of our HDS community and works tirelessly to ensure those employees most likely to feel marginalized have an inclusive space to call their work home," said her nominator, Brian Shimamoto. "Her establishment of the Café con Leche Spanish-language network and the Chiya Khala Nepali-language network are only two examples of successful initiatives she has created."
One employee said this about Sandoval: "She is a girl that is very friendly is always smiling and helps everyone. In her trainings, she always encourages us to participate. Erika deserves recognition as the employee of the year. The little time she has worked for the university everyone knows her and loves her. Thank you!"
Before coming to CU, her work focused on refugee, development and human rights. She is a first-generation college graduate who speaks several languages, and is a volunteer Spanish yoga teacher in Boulder and Denver, and is a volunteer for North Denver Economic Development Opportunity.
Alan Slinkard, Window and Projects Specialist
CU Boulder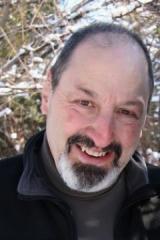 "Alan Slinkard's motor does not idle," said his nominator, Barry Sparks, who told this story as evidence: "He originally came to CU Boulder, years ago, as a window washer. He once asked his supervisor, Darren Gist, how many entry doors with glass panes he needed to wash in order to complete a task assigned to him. Darren had no idea. As an example of Alan's resourcefulness, tenacity and ability to think outside the box, a few hours later he announced to Darren that there were 1,125 doorways on campus that needed washing, and he then delivered an accurate timetable for how long the entire project would take. Alan's count and timetable were spot on."
Slinkard has served as chair of the CU Boulder Staff Council and still serves as a member of the organization.
He has an eye for detail and was directly involved with developing a quality-control program for custodial building inspections, is constantly fine-tuning workflow systems to keep them in check, and takes the time to give new hires the attention they require to be properly trained and on-boarded.
He earned his Ph.D. in mythological studies in 2018, and teaches a religious studies class to master's and Ph.D. candidates at the University of Denver in the evenings. He spends his free time skiing, rock climbing, parasailing, enjoying an occasional ride down the Snowmass zip line, relaxing with his family and sipping what he affectionately calls a "barley pop."
Jay Campbell, executive director of Facilities Management
University of Colorado Denver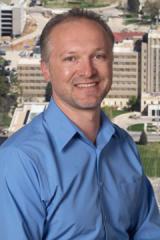 Campbell joined the university in 2015 and has made significant contributions to the campus since, said Ryan Untisz, who nominated Campbell on behalf of the CU Denver | Anschutz Medical Campus Staff Council. He joined staff council in 2016, and was elected chair in 2017.
During his tenure, writes Untisz in the nomination letter, Campbell "oversaw a dynamic shift in effectiveness and results of our campus staff council," including:
Advocating for policy reviews that impacted staff, including a working group tasked with researching improvements to the tuition waiver benefit program;
Launching the Staff Train and Retain Initiative, which aims to provide avenues for the professional development and retention of staff employees;
Overseeing the expansion of Staff Council's representation to include professional research assistants, who are not formally represented by faculty governance, and the creation of a new Staff Inclusive Excellence Committee (SIEC) to advance the causes of diversity and inclusion; and
Initiating a discussion on parking and fees on CU Anschutz, resulting in greater transparency and understanding about the complexities of university budgets and funding.
"Through his time as chair of the governance body representing staff, Jay Campbell has consistently provided guidance, encouragement, advocacy, and support to members of CU Denver | CU Anschutz Staff Council, far in excess of his significant responsibility as executive director of Facilities Management. There are few individuals who stand out as more deserving of recognition for such strong commitment to the university community and the communities we serve," according to the nomination letter.
In addition, he served on the Long Range Facility Planning Committee for Cherry Creek School District from August 2015 to July 2018, is a current representative on the Aurora Water Citizens Advisory Board, and is a current board member for the Colorado Association of Physical Plant Administrators.
Ja'Net Hurt, assistant to the dean, School of Education and Human Development
CU Denver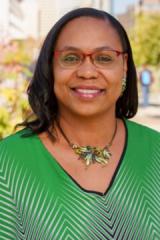 Hurt has been a member of the CU Denver Staff Council since 2012, and has served on several council committees. She also is actively involved in service to the School of Education and Human Development, including leading the department's wellness initiative.
"She is an important mentor to younger staff. I would describe her as the 'heart' of the school, someone who keeps everyone else in her line of sight and cares deeply about the school's community," said her nominator, Rebecca Kantor. She organizes many of the school's events, including retirement celebrations, baby showers and the annual spring faculty and staff barbecue.
Hurt serves her community as well. She is a member of the board of directors for the Downtown Denver Expeditionary School and has served on the School Accountability Committee. For the past four years, she has been a Blue Bear Reading Buddy at the same school, and is active in her church.