STORY
Softball sculpture to be unveiled Friday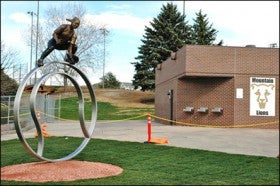 Formal dedication ceremonies for a 12-foot-tall bronze sculpture at the University of Colorado Colorado Springs are scheduled for 4 p.m. Friday, May 6, at Mountain Lion Field, part of the Four Diamonds Sports Complex, 5100 N. Nevada Ave.
The ceremony was rescheduled following the hospitalization of the sculpture's donor and UCCS benefactor Glenn Williams. Williams died April 28. His memorial service is scheduled for 11 a.m. May 6 at First United Methodist Church, 420 N. Nevada Ave.
At the ceremony, university leaders will unveil the sculpture to recognize women student-athletes and honor Williams' memory. The bronze, "Dedicated to Excellence," was created by Loveland sculptor Denny Haskew of the National Sculptors' Guild. It depicts a shortstop fielding a ground ball.
The project was commissioned by UCCS supporter Williams to highlight the role of women's athletics in the collegiate experience. The Glenn D. and Joan R. Williams Endowment for Women's Athletics also supports women student-athletes in softball, cross country/track and field, soccer, basketball and volleyball and the softball coach position.
"Dr. Williams was a dear friend of the university and, in particular, to women's athletics," Chancellor Pam Shockley-Zalabak said. "We appreciate his generosity and celebrate his enthusiastic spirit. He will be missed but remembered each time we see the sculpture he made possible. He was a very special human being."
Williams, a retired Eastern Illinois University administrator, began attending UCCS softball games in 1993 and later became friends with Head Coach Scott Peterson and many players.
Shockley-Zalabak and Brian Burnett, vice chancellor, administration and finance, will lead the ceremony. Several Williams family members are expected to attend in addition to Haskew and university officials.
The event is organized by the CU Foundation, which facilitated Williams' gift and the sculpture's creation along with the department of athletics.