STORY
Sierra magazine names CU-Boulder top 'green' university in the nation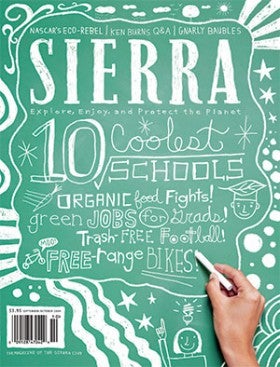 Sierra magazine recently crowned the University of Colorado at Boulder the nation's top "green" university.
The magazine announced its annual rankings of the nation's most "eco-enlightened" universities or "Cool Schools" in its September/October edition.
Other top-five finishers include the University of Washington at Seattle, Middlebury College, the University of Vermont and the College of the Atlantic. In the report's three-year history, CU-Boulder remains the only Colorado institution to appear in the top 10 featured lineup of Sierra's green colleges.
"This ranking is not a surprise, but it is a wonderful tribute to the hard work of our students, faculty, staff and administrators," said Phil DiStefano, chancellor of CU-Boulder. "Over the course of the last nearly six decades they have made sustainability a campus priority, and have done the hard work to make it a reality."
The magazine compiled its results from a 39-question survey measuring sustainable practices and initiatives in the categories of academics, administration, efficiency, energy, food, purchasing, transportation and waste management. Bonus points, of which CU-Boulder received five, were possible for "green" activities not covered by the questionnaire.
CU-Boulder scored strongest in the areas of transportation and waste management, and its overall score was 100 - the highest possible rating - according to the evaluation performed by the official magazine of the Sierra Club, the nation's oldest and largest environmental nonprofit.