STORY
Sheldon, of Employee Services, is President's Employee of the Year
System Staff Council event honors year's achievements, milestones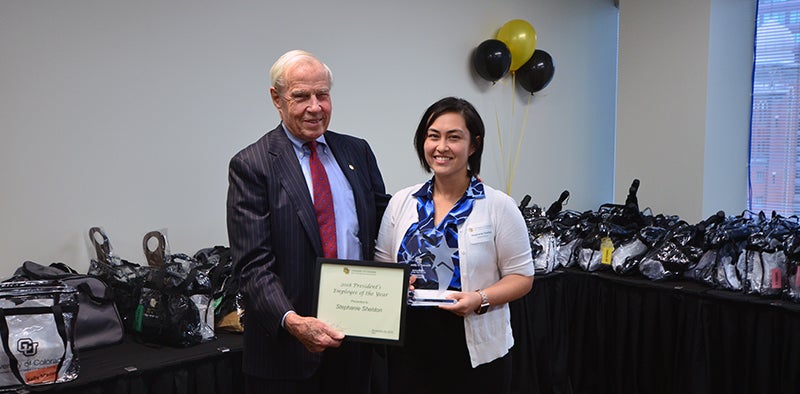 Stephanie Sheldon, data team manager with Employee Services, on Wednesday received the 2018 President's Employee of the Year Award. The recognition and appreciation of exceptional job performance, which includes a $1,000 award, was the centerpiece of an event presented by System Staff Council at 1800 Grant St.
Among the comments from her award nominators:
"Stephanie's positive attitude and collaborative style contribute to the customer centric values of her team."
"Stephanie continually demonstrates analytical skills, ensures quality controls are in place for data accuracy, and has expertise in both technical query tools and interactive data visualization products."
"She makes me smile because she shares her dreams about work and how they help her make the information she provides even better for her customers."
System Staff Council also recognized the other nominees for the President's Employee of the Year Award: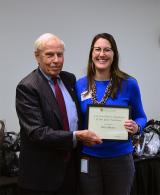 Kelly Maden, Office of Budget and Finance. "There is never an instance when she is too busy or overwhelmed to not respond with a smile and a solution."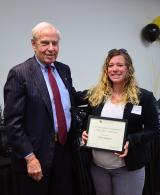 Erika Nelson, Employee Services. "Erika works diligently to find solutions that are effective, efficient and most important acceptable to the campuses."
Wednesday's reception also celebrated staff members who reached a years-of-service milestone during the 2017-18 fiscal year.
In introducing those in attendance, President Benson was joined by Tara Dressler, chair of System Staff Council; Nicole Combs, System Staff Council events committee chair; and Leonard Dinegar, senior vice president and chief of staff.
Those marking milestones are:
30 years
Jenny Rattana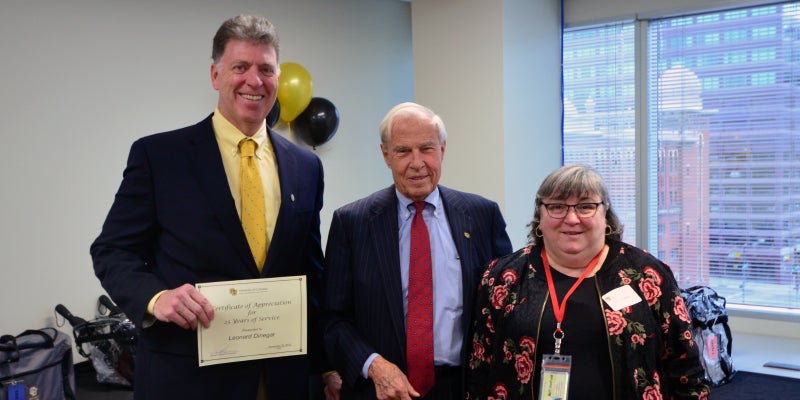 25 years
Leonard Dinegar
Deborah Makray
Donna Sewell
Stephen Zweck-Bronner
20 years
Gary Bomba
Peter Ciacco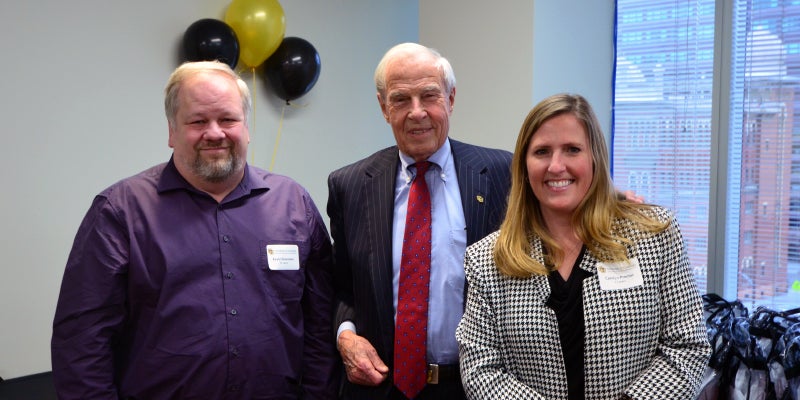 15 years
Eugenia Escobar-Trujillo
Laura Haller
Deborah Keyek-Franssen
Carolyn Proctor
Kathryn Samuelson
Kevin Sisemore
Kimberly Wendelin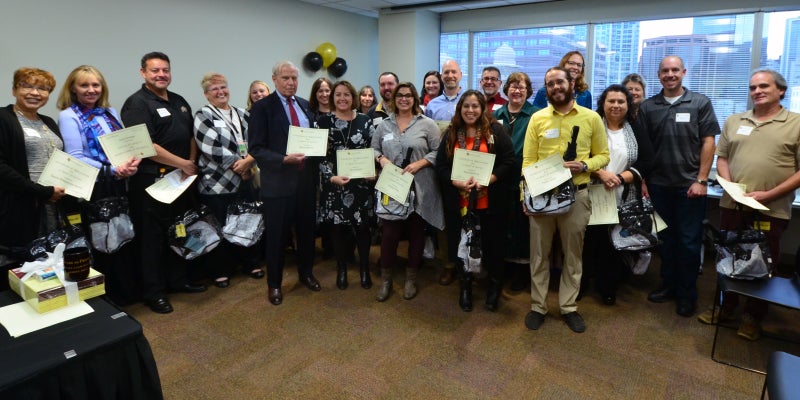 10 years
Anna M. Aguirre
Fiftwo Baldwin
Bruce Benson
Elizabeth Collins
Leslie Damiano-Nittoli
Ryan Day
Tara Dressler
Brian Dyet
Bob Hasenhundl
Kari Henningsen
Tracy Hooker
Jean Howe
Connie Johnson
Phillip Jones
Jane King
Michelle Krech
Matthew LeDoux
Matthew Lemme
Athena Levy
Janet Lowe
Kevin McCarty
Katherine Miller
Scott Munson
Denise Noelle Nakamichi
Sharon Price
Christopher Rose
Nora Sandoval
Teena Shepperson-Turner
Amanda Ulrey
Sara Wuorinen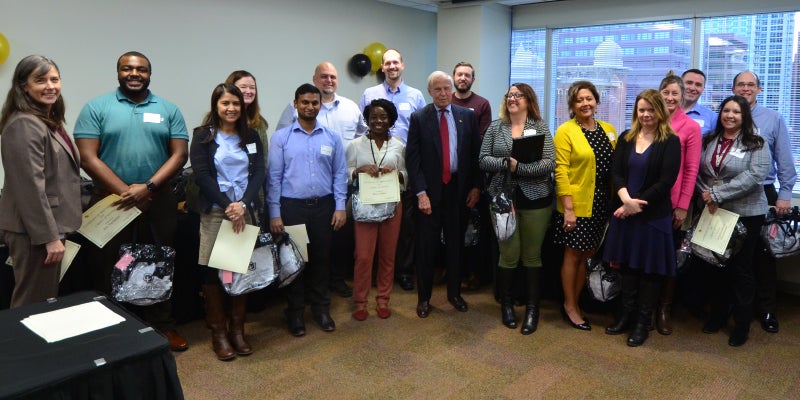 Five years
Erin Benoy
Anthony Brooks
Keith Carpenter
Allison Eggleston
Angelica Garcia Throckmorton
Jennifer George
Susannah Hutchison
Brett Kellum
Melissa Kent
Sarju Khadka
Margaret Kinney
Toby Lutz
Sean Martin
Jason Martinez
Steven Mestdagh
Adam Newby
Erin O'Brien
Mercy Olaka
Faith Perry
Viet Phan
Kelly Richter
Matthew Roush
RyAnne Scott
Laura Siedzick
Om Tandukar
Eric Thompson
Michelle Travis
Rakesh Vangapati
Marita Vieth
Jack Waldorf
Patrick Whetsel