STORY
Series of three Supplier Showcases begins Thursday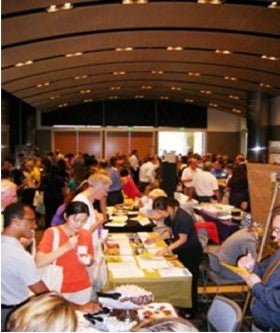 Denver event to be followed by Boulder, Colorado Springs
Representatives from various campus departments also will be on hand to discuss a variety of topics, including sustainability and ethics. Procurement Service Center (PSC) staff will be available to answer questions.
More than 1,200 CU employees are expected to participate in the campus events:
Anschutz Medical Campus
9 a.m. to 2 p.m. Thursday, Sept. 9, Research Center 2, Second Floor Conference Room
CU-Boulder
10 a.m. to 2 p.m. Wednesday, Sept. 15, UMC Glenn Miller Ballroom
UCCS
10 a.m. to 2 p.m. Tuesday, Sept. 21, University Center Ballroom
Showcase sponsor Staples will be featured at each showcase, and Staples' office supply partners also will be present. Also in attendance will be representatives from Colorado Correctional Industries, the division of the Colorado Department of Corrections that sells furniture and other items manufactured by Colorado prison inmates.
"Showcase exhibitors will include suppliers from the hospitality and scientific industries, as well as other vendors offering an array of goods and services," said Penny Davis, small business liaison officer with PSC. "We invite all faculty and staff, regardless of their home campus, to join us at any or all of the showcases."
Davis encourages faculty and staff who would like to attend to register so that PSC can plan adequately. Complete information and a registration form is available at https://www.cusys.edu/psc/.