STORY
Seeking 'capstone experience in academia,' Kennedy meets CU community
Presidential finalist begins week of forums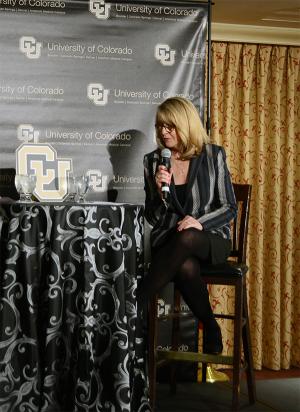 Mark Kennedy, finalist for CU president, on Monday made his first public appearance in the role, speaking before an audience of staff from system administration and the CU Foundation.
In a forum introduced by Sue Sharkey, chair of the Board of Regents, Kennedy highlighted his experience in business, politics and higher education, and answered questions about his accomplishments and plans for leading CU should the board appoint him.
After Monday's event at Denver's Warwick Hotel, Kennedy's week of introductions at CU continued with forums Tuesday at UCCS and Wednesday at CU Anschutz.
Click here for details on forums today at CU Denver and Friday at CU Boulder.
Kennedy, 62, is president of the University of North Dakota. Originally from Minnesota, he served in Congress from 2001-07 after holding leadership posts at major corporations. Experiences from all three of those roles are required of the CU presidency, he said.
In business and academia, he said, "I've always checked my politics at the door." He stressed his belief in the need for collaboration, diversity and inclusiveness in order for a university to thrive. "Life is a game of addition, not subtraction."
Kennedy's academic career before UND includes teaching and research at Johns Hopkins and George Washington University, where he directed the Graduate School of Political Management.
The four categories named in the Board of Regents' strategic vision would drive his agenda at CU, Kennedy said. He would work to set goals, "which will be put together not by me, but by us. … Unless it's our plan, it's not going to animate us to achieve the greatest possible outcome."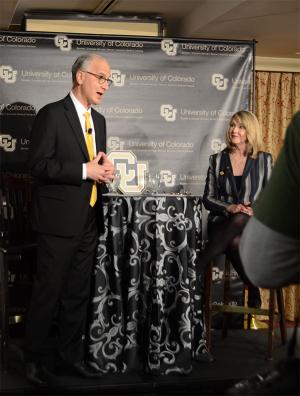 Kennedy said he has "no intention of micromanaging the campuses," adding that he'd met with the four chancellors earlier on Monday. "They need to have the autonomy to meet their missions." Collectively, CU must meet the state's needs.
Kennedy expects he'd devote a significant part of his time fundraising, which he enjoys. "You get a chance to engage successful people."
As for why he wants to take on the CU job, which President Bruce Benson will depart in July after 11 years, Kennedy said he's "driven by impact."
"I have found working in higher education more satisfying than serving in Congress," he said. "It's something I'm passionate about, and the scale you can do it at in Colorado is bigger than the scale I can do it now." He and his wife, Debbie, would like CU to represent "my capstone experience in academia."
Asked if it's fair for members of the CU community to ask him questions regarding his voting record in Congress, Kennedy said no.
"Not once has a vote come up in my nine years in academia," he said. "I'm not running for Congress. The real question is, how good are you at running a university?"
Attendees of this week's forums are encouraged to submit feedback to the Board of Regents via this online form.