STORY
School of Medicine faculty dominate magazine's Top Docs list
5280 counts 183 from CU community in its annual ranking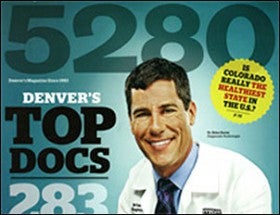 Editor's note: An earlier version of this story indicated only 63 physicians from the Anschutz Medical Campus were included on the 5280 list; the story did not state that the 63 are the physicians on staff at the University of Colorado Hospital.
The University of Colorado School of Medicine is home to the majority of Denver's Top Docs as selected in the annual survey by 5280 Magazine. Faculty and clinical volunteers with theUniversity of Colorado School of Medicine accounted for 183 out of the 295 physicians named in the survey.
View the Top Docs 2010 list from 5280 Magazine. (PDF)
Physicians with the School of Medicine and its research program partner with local, affiliated hospitals including University of Colorado Hospital, The Children's Hospital, National Jewish Health, the Veteran's Administration Health Center (Denver) and Denver Health, treating patients at every age and with various health conditions.
School of Medicine physicians and the clinical volunteers instruct the next generation of caregivers. School of Medicine physicians need to be innovative, staying ahead of the latest research and becoming aware of the best ways to treat diseases. The faculty educate and train 1,700 medical professionals each year including medical students, residents and fellows, physical therapists, and child health associates/physician assistants. They also bring innovative research to the bedside of patients so they can receive the most advanced new treatments and therapies.
For the past 17 years, 5280 has compiled the listings for the top doctors in the Denver metro-area. The physicians ranked in the Top Doctors 2010represent 80 different specialties chosen from a list approved by the American Board of Medical Specialties. Individual physicians are nominated by their peers as the magazine worked with the Colorado Board of Medical Examiners to invite more than 8,500 doctors to participate in the survey. It listed a variety of specialties and asked the doctors who they would trust to treat them or a member of their family in each of the 80 categories.