STORY
School of Dental Medicine expansion under way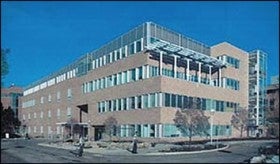 The drilling you may hear in the School of Dental Medicine isn't all about filling teeth. Construction is under way to expand the third and fourth floors.
Dan Shomers, project manager in facilities projects, says the project will add about 20,000 square feet of operatory, office and lab support space to the school. It also will provide another 42 dental chairs on the fourth floor and 24 chairs on the third floor.
The $10.5 million project is expected to be completed in December, Shomers says. Haselden Construction is the contractor; the design team is Anderson Mason Dale Architects. See the map.