STORY
RTD Board approves rail realignment to Fitzsimons Parkway
Board cites trust in partnerships, comfort in cost and confidence that shuttle will serve transit dependent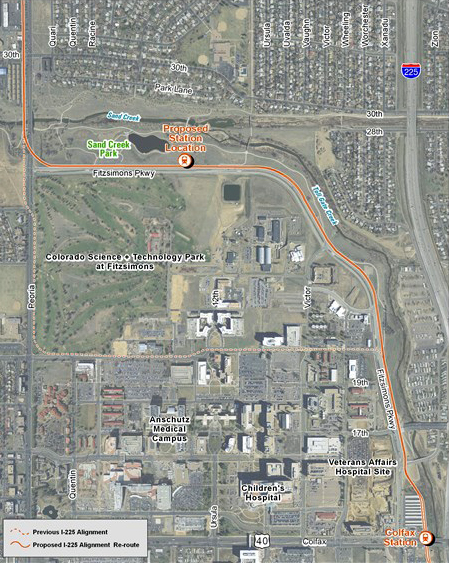 The RTD Board of Directors on Tuesday voted 14-1 in favor of a Fitzsimons Parkway light rail realignment on the Anschutz Medical Campus.
The station location serving the campus will also change from the original placement on Montview Boulevard to along Fitzsimons Parkway. The exact location will be determined through a collaborative effort between the University of Colorado and the city of Aurora as well as public input, according to the recommendation voted on by the RTD board.
The matter again received lengthy board discussion, following a thorough discussion two weeks ago by the RTD Directors' Monitoring Committee. The board support boiled down to three factors: comfort with the benefits and service provided by the new alignment; trust in the partner stakeholders who support the new route and have plans for an Anschutz Medical Campus shuttle; and a desire to avoid unnecessary delays and expense of further deliberation.
Here's a map of the proposed Fitzsimons Parkway light rail realignment (PDF).
RTD staff continued discussions with CU during the past two weeks. Those discussions followed the board's receipt of a letter by CU President Bruce Benson, who explained that electromagnetic interference (EMI) and vibrations from light rail along Montview Boulevard posed significant adverse impacts to sensitive medical equipment on the campus.
At the meeting two weeks ago, board member Barbara Deadwyler, whose District B includes the Anschutz Medical Campus, expressed reservations about the proposed realignment. She said that she wasn't comfortable that a shuttle circulator would adequately accommodate riders who are transit dependent.
Deadwyler said Tuesday that she has since toured the campus and gained a greater understanding of planned access points. She noted that the Anschutz Medical Campus currently encompasses 22,000 employees and visitors daily and, after full build out, will grow to more than 50,000.
"I believe the focus includes accessibility and I trust that the transportation plan under consideration will be totally inclusive across the full campus environment as well as providing more accessibility to north Aurora," Deadwyler said. "I am trusting CU to deliver on their promise to provide (rail users) access on the campus without an additional cost to RTD."
A comprehensive transportation plan is underway as part of the Anschutz Medical Campus master plan. The plan includes a campus circulator that would connect the new Fitzsimons station and key locations, including CU Anschutz, University of Colorado Hospital and Children's Hospital Colorado.
Board member Kent Bagley said the realigned route, which is expected to be completed in 2016, comes down to trusting the RTD staff and partners at CU, Fitzsimons Redevelopment Authority and the city of Aurora. "We're all in this together," he said. "We don't have time to sit back and wander around and spend a million and half to $2 million a month trying to determine exactly where this right of way is going to be."
He also cited that the realigned corridor will speed up light rail, offering travel at 35 mph to 40 mph along Fitzsimons compared to 10 mph to 15 mph on Montview Boulevard.
Lilly Marks, executive vice chancellor of the Anschutz Medical Campus and CU's vice president for health affairs, issued a statement about the proposed realignment. It was circulated campus wide ahead of the board's vote.
"At first, the Montview light rail line and station appeared to be the preferred option," Marks said. "But as we've studied the issue more and learned from the experience of other universities in other cities, we have concluded that running light rail down Montview would be problematic for several reasons, including money, safety and science."
She added, "Relocating the light rail line and providing a shuttle service to the campus will address those issues and give the thousands of people who work and visit the campus each day a convenient way to travel."
Board member Bill James cited Marks's letter at Tuesday's meeting, saying it mentioned other limitations with the Montview site. "Things like line crossings and various other factors that can come into play, such as narrowing Montview Boulevard down to one lane and things like that."
A couple of board members attempted to amend the language of the recommendation to, in their view, better protect RTD from any potential cost overruns and ensure that an intergovernmental agreement be signed related to the shuttle service.
Both amendments failed in lopsided votes as members said they would only muddy the process and potentially delay construction.
The vote on the I-225 alignment change included the stipulation that all changes will be made within the originally approved I-225 project budget. RTD General Manager Phil Washington said he doesn't foresee it happening, but anything that goes over budget would have to come back to the board for approval.
"We've never exceeded a project budget -- that is what has led to the success of this agency," Washington said. "I think some credence must be given to our track record that we have never gone over our project budget and come back to the board to seek approval (for additional funds)."