STORY
Rising Leaders in Education program focuses on nurturing future teachers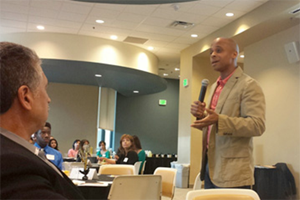 As part of nurturing students to become teachers, the CU Denver School of Education and Human Development (SEHD) offers programs to develop, train and prepare teachers for classrooms.
Last week, SEHD honored leaders in the Denver Public Schools with strong academic promise, leadership skills and a passion for educational equity. The Rising Leaders in Education awardees include high school students, teacher candidates and CU Denver Professional Development school teachers.
The 43 students were honored for their academic excellence, as well as recognized for their interest in becoming teachers in the future.
The guests, including parents, were welcomed to an event in the Lawrence Street Center, Terrace Room.
Leading up to the event, students were nominated by their high school counselors and teachers who identified a "spark" in each of them for both teaching and learning.
"The reason these kids have been nominated is because they have expressed a deep interest in education and are all-around awesome," said Gary Guidin, high school counselor for three students attending the reception.
Antwan Jefferson, SEHD instructor, Urban Community Teacher Education (pictured above), gave the keynote address. He shared his own journey into teaching and encouraged students to look to their teachers and parents; and to follow their individual callings, to pursue their unique happiness, and "change the world. Part of the trick," Jefferson said, "of deciding what to do with yourself is finding the thing that matters outside of you."
While volunteering in a Spanish class, Jefferson said he realized his dream to pursue medicine was founded in a deeper desire to help people. Jefferson urged the young students to search for their deeper desires in order to find where they will be the most successful—not necessarily in wealth, but in happiness and in satisfaction.
During the evening, information was available for the young students regarding attending CU Denver and SEHD programs. Many of the students attending, from freshmen to seniors, expressed an interest in CU Denver for its vivid, diverse and engaging campus.