STORY
Response to initial Anschutz Medical Campus Food Truck Row 'phenomenal'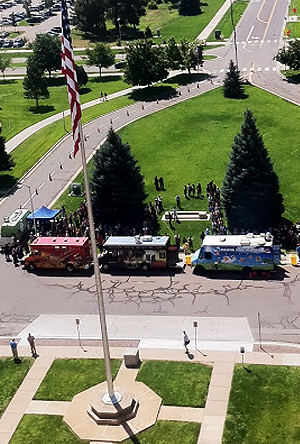 The response to Food Truck Row on the CU Anschutz Medical Campus last week exceeded every expectation.
"What an overwhelming response," said David Turnquist, associate vice chancellor, Facilities Management. "I was concerned that we wouldn't have enough people to make this interesting/profitable for the food truck operators. Was I ever wrong about that!"
Trucks open for business
The day started early on the south side of the Henderson parking garage with breakfast sandwiches, French toast and Colorado farm-fresh items available to be washed down with gourmet coffee. At lunch time, four food trucks rolled in to set up in front of Building 500.
So many staff, faculty and students cued up to purchase items which made lines seem very long.
"The trick is to get to the lunch trucks early," observed CJ Klingler from the School of Medicine, Dean's Office. "I went at 1 p.m., stood in line for 20 minutes and realized I would not get served by 2:00; so I had to go elsewhere."
Food for thought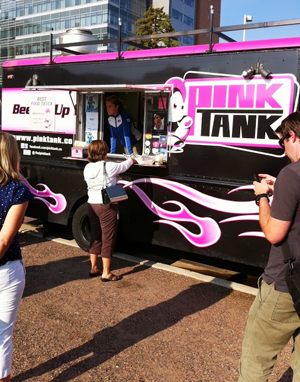 The Facilities team got the message. There were four lunch trucks but Turnquist said the number of vendors probably needs to double to meet the demand, and it would be best to serve lunch right at 11 a.m. Vendors will be asked for quicker turn around time on individual orders, as well as to work out 'bugs' in taking credit card payments.
Turnquist also hinted at the possibly of expanding from the planned Food Truck Row offering on Wednesday to twice per week. Despite the challenges on opening day, everyone agreed, the mood seemed festive.
"The feedback from everyone I heard from on the variety, quality and value of the food and beverages was that of being excited and impressed by their experience," said Carol Calkins, director, Facilities Support Services​. "There is definitely a hum around campus about Opening Day for Food Truck Row that should serve as great momentum into the future."
"Bringing in Food Truck Row will add such a great variety to our campus," added Maria Portelli, director, Bookstore and Food Service. "Our hope is that when we have this event each week it will allow folks to get out of their offices, enjoy unique food that is basically brought right to them."
Stay tuned. Look for more information and variety as Food Truck Row continues to evolve on the Anschutz Medical Campus.