STORY
Relay for Life raises money, recognizes cancer survivors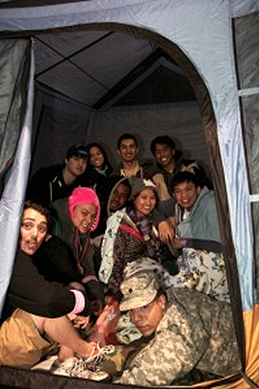 About 300 participants turned out for the ninth annual Relay for Life event at UCCS April 13 to recognize cancer survivors and raise money for the American Cancer Society.
Activity continued through the night with members of student clubs and other organizations running and walking the pavement adjacent to the west lawn, where supporters provided food and beverages and collected donations.
Members of Team APISU try to stay warm as they wait for their turns to run in the Relay for Life. The Asian Pacific Islander Union was one of the UCCS student clubs fielding a team in the event. Photo by Nicholas Burns, courtesy of The Scribe
There were eight cancer survivors on hand to celebrate survivorship, share their experiences and inspire the teams and volunteers. There were 25 teams taking part.
"I'm so pleased Relay for Life is back on campus and close to the housing village this year," said Nancy Gadachy, program assistant, Student Health Center. "I don't think it attracted as many participants when it was held at 4 Diamonds in previous years."
The event on campus raised just over $1,800, but the fundraising campaign is scheduled through Aug. 15.
Relay for Life is an overnight event designed to raise funds for research, promoting cancer awareness and other programs the American Cancer Society sponsors. It is also an opportunity for cancer survivors to show the success medical research has made in the fight against cancer.  Participating teams run or walk laps on a designated course, with members taking turns, but always keeping one member on the course at all times.
Online information about Relay for Life is at http://www.cancer.org/Involved/Participate/RelayForLife/index.