STORY
Regents pursue in-state tuition status for indigenous peoples
Last week's meeting also featured salutes to departing board members
The CU Board of Regents last week voted to direct university administration to work with state lawmakers in order to offer in-state tuition status for out-of-state Indigenous peoples whose tribal nations are historically tied to the lands that make up Colorado.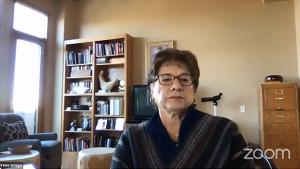 Introduced by Regent Irene Griego, D-Jefferson County, the resolution's intent is similar to steps the board previously took to offer in-state tuition to dependents of members of the military and veterans.
The vote during the Nov. 12 meeting was 7-2, with no votes from Regents Chance Hill, R-Colorado Springs, and John Carson, R-Highlands Ranch, who expressed concerns about the cost, which was not specified. CU must have permission from state lawmakers before determining to make such an offer to eligible students.
CU campuses are located on historical homelands of the Cheyenne, Arapaho, Ute, Apache, Comanche, Kiowa, Lakota, Pueblo and Shoshone Nations.
A related resolution, also introduced by Griego, affirmed that CU leadership will continue to engage Indigenous community members and leaders across the campuses in conversations on a variety of issues of importance to those communities, including periodically revisiting the CU systemwide Lands Recognition Statement. It passed 8-1, with Hill opposing.
In other business at the Nov. 12 board meeting, held remotely, the board voted to bestow Regent Emeritus titles to the three members who will leave in early January at the conclusion of their terms. Regents Griego, Carson and Linda Shoemaker, D-Boulder, did not seek reelection this year. After hearing tributes from fellow board members and administrators, the three noted the valuable friendships they developed with one another while serving on the board and supporting the university.

Earlier in the meeting, Board Chair Glen Gallegos welcomed the three regents-elect - Callie Rennison, Ilana Spiegel and Nolbert Chavez - who will take their oaths of office on Jan. 7 as part of the board's winter retreat, expected to be held virtually.