STORY
Regents hear update on investment and sustainability
Board's response to calls to divest from fossil fuels remains unchanged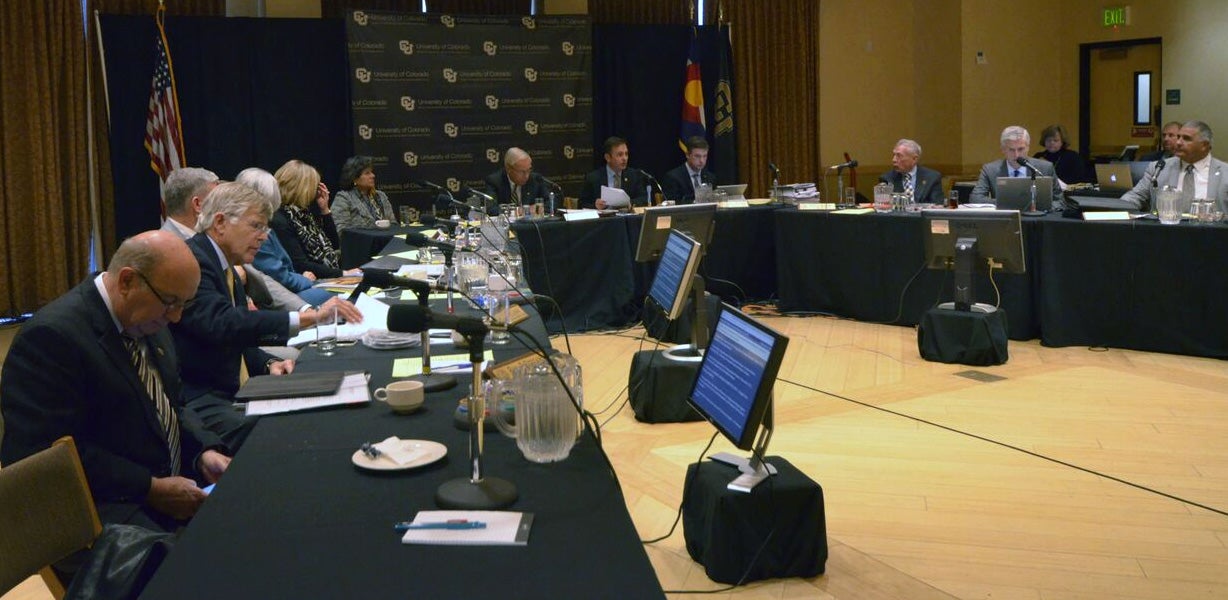 The CU Board of Regents said in April that it won't move to divest from fossil fuels, and nothing during a renewed discussion of the topic at last week's board meeting at CU-Boulder has changed that.
Treasurer Dan Wilson on Nov. 5 provided a report – requested by the regents at that April meeting – on how CU's investment strategies are consistent with Regent Policy 13-A and reflect the university's commitment to sustainability.
Regent Michael Carrigan, D-Denver, asked Wilson if any third-party groups such as Fossil Free CU had contacted Wilson's office to discuss divesting; Wilson said he only had discussed the issue with previous treasurer Don Eldhart.
Carrigan asked, "So no groups reached out to you and took the initiative?"
"No," Wilson replied.
Carrigan asked Regent Steve Bosley, R-Broomfield, who is chair of the board's Budget and Finance Committee, whether exploring alternative energy investments has been made a priority of the advisory committee.
"Nothing is being excluded," Bosley said. "Are we looking at this harder than anything else? … If a class of assets suddenly looks like it has potential, (investment advisers) will be on it. … I wouldn't want you to assume it's getting neglected."
Wilson said the university is following regent policy regarding investment, and thus "trying to be neutral." He also said investment in green energy is "absolutely in the mix."
"We're trying to make the best investment decisions possible for the university," Wilson said.
Prior to the discussion, during the board's hearing of public comment, CU-Boulder student Alec Herr and professor Marty Walter renewed the call for CU to divest from fossil fuel investments.
In other business at last week's meeting, Nov. 5-6 at the University Memorial Center:
The regents heard a proposal for a new degree at CU-Boulder, a master of fine arts in experience design. Chancellor Phil DiStefano presented an update on the campus's Grand Challenge, and Todd Saliman, vice president of budget and finance, presented information on financial aid and student debt. Read more from CU-Boulder Today.
Michael Lightner, vice president for academic affairs, updated the board on intercampus concurrent enrollment (ICE) across the campuses. ICE allows students to transfer credits between the campuses by either enrolling and being accepted at both campuses or filling out forms for specific courses on another campus. He said about 1,350 students are taking advantage of ICE in this calendar year, but the process can be challenging. Lightner is working to streamline the process and go fully online. "It doesn't increase the pie of students," he said. "It helps serve existing students."
Kathy Nesbitt, vice president for employee and information services, updated the board on increasing diversity and inclusion across the campuses. Her leadership team has a shared vision and is in the process of defining what diversity means to the university, she said. This is the first time the university has spoken candidly about diversity and inclusion, she said.
The board presented a resolution of appreciation to Jeff Parker, executive vice chancellor for administration and finance at CU Denver, who is retiring next month after 16 years with CU.
Cathy Beuten contributed to this report.