STORY
Regents approve $4.54 billion system budget
Systemwide total for 2020-21 is down 5.3% over current year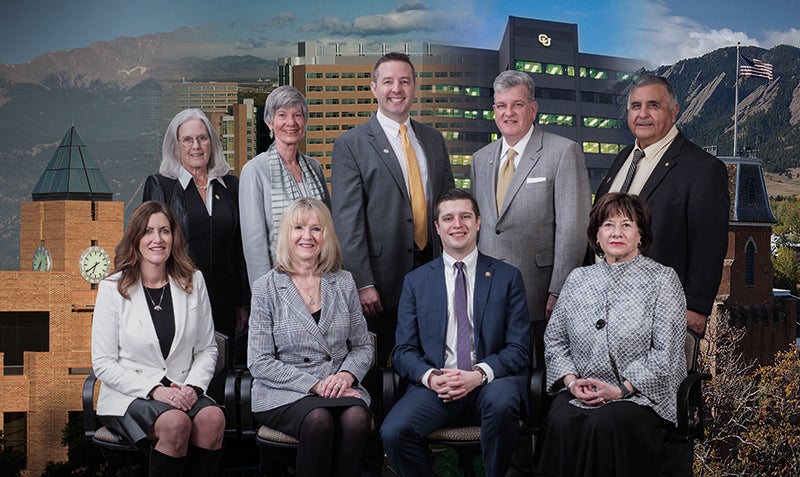 The CU Board of Regents last week unanimously voted to approve a $4.54 billion budget for the 2020-21 fiscal year, am amount 5.3% less than the previous annual budget for the university system.
The budget as proposed by administration was presented by Todd Saliman, vice president of budget and finance and chief financial officer, during the board's June 18 meeting, which was held remotely and livestreamed. Video of the meeting is posted here.
The budgets by campus and system administration, with percentage cuts compared to the 2019-20 fiscal year:
CU Boulder, $1.86 billion, down 2.1%
UCCS, $244.7 million, down 9.9%
CU Denver, $300.4 million, down 9%
CU Anschutz Medical Campus, $2.14 billion, down 6.8%
System administration, $197.2 million, down 2.1%
The budget reflects the impact of the coronavirus pandemic, with projected revenue losses and additional costs incurred because of COVID-19. CARES Act funds to be spent in 2020-21 account for 3.4% of the university's total expenditures. The state's budget for 2020-21 includes a one-time cut of $140 million to CU.
Saliman noted that CU's budget is based on current enrollment expectations, and that mid-year adjustments to the budget may be necessary depending on final fall enrollment figures. The board will be updated on enrollment at the September meeting.
The university will save over $104 million via furloughs and position controls – not hiring to replace vacation positions – affecting 7,708 university employees. The vast majority of those are employees taking one or two furlough days per month.
Additional actions affecting employees – such as periodic and extended furloughs, position eliminations, further hiring delays and layoffs – might be necessary depending on whether greater revenue shortfalls take place during the year. Plans vary across the campuses.
In other business at the June 18 Board of Regents meeting:
Regent Jack Kroll introduced a resolution listing eight immediate action steps for the university to take "to ensure a system that is fair, equitable, and accountable for all students, faculty, staff, alumni, and community members." The board first voted 5-4 to table the resolution, then voted 6-3 to refer the resolution to its University Affairs and Governance committees for further review and opportunities to hear input from members of the university community.

CU Denver Chancellor Dorothy Horrell updated the board on CU Denver and CU Anschutz Medical Campus' pursuit of federal designation as a Hispanic-Serving Institute. The designation – which is awarded to institutions with a 25% or higher full-time equivalent (FTE) Hispanic student population, as well as other considerations – results in additional federal funding. Horrell said the institution is on track for submitting a final application to the Department of Education in January.

Regent John Carson asked that the Governance Committee consider a recommendation that during the hiring process for such posts as chancellors, provosts and deans, search committees consist of no more than 50% university employees. The committee will review the resolution before it comes to the full board in September.

The board passed a resolution honoring Dorothy Horrell as Chancellor Emerita of CU Denver. "Thank you to the Board of Regents for your belief in me and your support for CU Denver," said Horrell, who retires at the end of this month after four and a half years at the helm. "I believe passionately in that place. I think CU Denver matters more than ever." The board also granted the title of Vice President, University Counsel and Secretary of the Board of Regents Emeritus to Dan Wilkerson, whose interim role concludes at the end of this month. He was honored with a resolution of appreciation, as was Anna Gordon-Norby, outgoing chair of the Intercampus Student Forum (ICSF).

The board voted to approve five new degrees at CU Boulder. Read more in CU Boulder Today.

The board approved two new graduate certificate programs and two new undergraduate certificate programs at UCCS.

The board approved plans for a $9.98 million renovation of the Fitzsimons Building at the CU Anschutz Medical Campus.

The Board of Regents approved 83 tenure awards and appointments.

The board voted for leadership for the coming year. Glen Gallegos was re-elected chair by acclamation. Lesley Smith was elected vice chair, also by acclamation, to succeed Irene Griego, who will leave the board when her term expires in January.