STORY
Regents announce slate of 2021 honorees
Board bestows degrees, awards, medals to outstanding individuals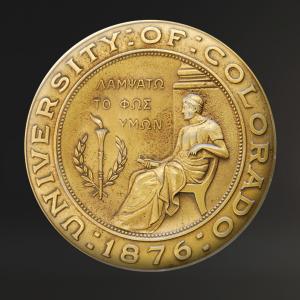 The University of Colorado Board of Regents has announced its selection of this year's recipients of Honorary Degrees, Distinguished Service Awards and University Medals.
Upon the recommendation of the board's Awards Committee, the regents in November approved the 2021 nominees. Each recipient has been invited to attend a campus commencement ceremony to accept an award; the dates and locations are to be announced.
The 2021 recipients are:
Honorary Degrees
Ceal Barry (Doctor of Humane Letters, honoris causa, CU Boulder)
Ceal Barry was a groundbreaking women's basketball coach and athletic department administrator at CU Boulder.
She spent 37-plus years in the CU Boulder athletic department, the first 22 as head women's basketball coach and the final 15 as an administrator in several important capacities.
Her teams brought positive national exposure to the University of Colorado.
She geared her work in administration toward improving the experience for the student athlete.
She is a member of three Halls of Fame: Colorado Sports, CU Athletics and Women's Basketball.
Lauren Casteel (Doctor of Humane Letters, honoris causa, CU Denver)
Lauren Casteel's outstanding contributions in public service and philanthropy are well-known throughout the state.
She has been credited with changing the face of Colorado's nonprofit community.
She created the Nonprofit Inclusiveness Project, which earned the national Council of Foundations' Critical Impact Award (2009).
Her asset-based, inclusive approach at the Women's Foundation respects all voices and drives outcomes that benefit all women and families.
She has dedicated her life to excellence and inclusivity in philanthropy and is considered a national leader.
Lyda Ludeman (Doctor of Science, honoris causa, CU Anschutz)
Lyda Ludeman is a longtime supporter of the Center for Women's Health Research (CWHR).
She became involved with CWHR after joining the Denver Chapter of the Achievement Rewards for College Scientists (ARCS), an all-volunteer group of women who raise money for scientific scholarships at the University of Colorado, Colorado State University and the Colorado School of Mines.
She started a seed grant endowment at the CWHR supporting junior researchers, a passion of hers.
Her partnership promises to transform the health and well-being of women and their families.
Cleo Parker Robinson (Doctor of Humane Letters, honoris causa, CU Boulder)
Cleo Parker Robinson is the world-renowned founder and artistic director of Cleo Parker Robinson Dance (CPRD), now in its 50th anniversary season.
She is a cultural ambassador who brought her vision of "dance as a universal language" across the globe.
Her work is crucial for remembering dance histories that, without artists and somatic archivists like her, could be forgotten.
She has collaborated with numerous symphonies, theatrical and opera companies, and acclaimed artists. CPRD has performed at prestigious venues and festivals throughout the world.
She has received many awards and recognitions including the CU Regents Distinguished Service Award in 1988.
Distinguished Service Awards
Amy Davis (posthumous, CU Anschutz)
Amy Davis was a well-known philanthropist who supported a number of causes in Colorado and Wyoming, including research and patient care at CU.
She created the Courtenay C. and Lucy Patten Davis Foundation after her father's death in 1992.
The Patten-Davis Foundation created five endowed chairs and provided multiple research funds to support faculty at the CU Cancer Center and the Barbara Davis Center for Diabetes at CU Anschutz.
Amy battled melanoma and was treated by Dr. William Robinson at the CU melanoma clinic, which has fueled support for melanoma research by the Patten-Davis Foundation.
Charles Sisk (CU Boulder)
Charles Sisk is a double Buff (undergraduate in 1967, graduate CU Law in 1969) and longtime public servant who dedicated his career to the state of Colorado.
He has served as deputy district attorney in Boulder, Boulder County public administrator, Louisville City Council member and mayor, and RTD board member and chair.
He has always had a passion for helping his community and is well-known across Colorado as a kind, generous and dedicated public servant.
In 2019, he retired from public office.
University Medals
Rick Gardner (CU Denver)
Rick Gardner has devoted much of his life to CU Denver through his teaching, expertise and philanthropy.
He is a pioneer in the field of cognitive psychology with a celebrated 52-year career as a psychology professor.
He has been giving philanthropically to CU Denver since 1992, primarily supporting liberal arts initiatives and financial aid, as well as investing in CU Denver programs in the psychology department.
After his retirement in 2007, Rick and his wife of 50 years, Betty Ann, established the Gardner Doctoral Fellowship to support Ph.D. students in the Clinical Health Psychology program.
Michael Leeds (CU Boulder)
Michael Leeds provided philanthropic support to name the Leeds School of Business.
He improved the academic profile of the Leeds student body through his transformational investment.
He made social responsibility and ethics a core part of the business curriculum.
He helped build the school's reputation as a thought and education leader in social responsibility and ethics, as well as sustainability and the environment.
Margaret Neville (CU Anschutz)
Margaret Neville dedicated her career to discovery at the cutting edge of science.
She has 50 years of scientific excellence and NIH funding, including a MERIT award.
Upon her departure from the position, she endowed the Cobb Professorship in the Department of Ob/Gyn (2010) to be held by the chief of the Division of Reproductive Sciences.
She inspired the careers of countless faculty members of the University of Colorado School of Medicine and provided an endowment to assure the future success of faculty.
Rebecca Roser (CU Boulder)
Rebecca Roser is a longtime, dedicated supporter of the University of Colorado Boulder.
She distinguished herself through service and philanthropy as a tireless advocate and champion of CU and, in particular, the College of Music.
She served CU in many ways including as a foundation trustee, campaign chair of the "music+" campaign, chair of the College of Music Advisory Board, co-chair of the ATLAS advisory board and as a member of the CU Health Sciences Cancer Center and Cancer Fund Board.
Along with her late husband, Jim, she provided support for the Roser ATLAS Center and the Rebecca Roser Keyboard Department in the College of Music.
Lola and Rob Salazar (CU Denver)
The Salazar Family Foundation has awarded more than $20 million since it was established as a supporting organization in 1999.
In 2017, the Salazar Family Foundation pledged its largest single donation to support CU Denver's first named building, the Lola and Rob Salazar Student Wellness Center.
The foundation has consistently supported the Denver Public Schools Foundation, Latin American Educational Foundation, Metropolitan State University of Denver and CU Denver.
In 2019, Lola and Rob Salazar were honored with the Outstanding Philanthropist Award for National Philanthropy Day by the Association for Fundraising Professionals Colorado Chapter.