STORY
Red flags raise awareness about abusive relationships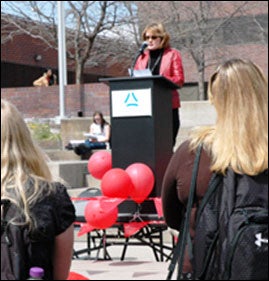 The tri-institutional Phoenix Center at Aurariahosted a Red Flag Rally during Sexual Assault Awareness Month. Students joined the rally to raise awareness of interpersonal, sexual and stalking violence and the ways in which they can help their friends identify red flags in relationships.
Some 1,200 red flags around the Auraria Campus, accompanied by educational posters from the Red Flag Campaign, identify ways that abuse manifests in relationships.
Kathy Robertson, above, mother of Abby Robertson, a Metropolitan State College of Denver student who was stalked and murdered by her ex-boyfriend in 2007, spoke along with other guests at the April 7 event on the Auraria Campus.
The rally was sponsored by the Phoenix Center at Auraria, GLBT Student Services, the Institute for Women's Studies and Services, UCD Student Life, CCD Student Life, UCD Center on Domestic Violence, and Metro State Student Activities.
For information, please contact Lisa Ingarfield, associate director of the Phoenix Center at Auraria, at lisa.ingarfield@ucdenver.edu, 303-352-3745.