STORY
Professor Cobb wows students with power of math at TEDxYouth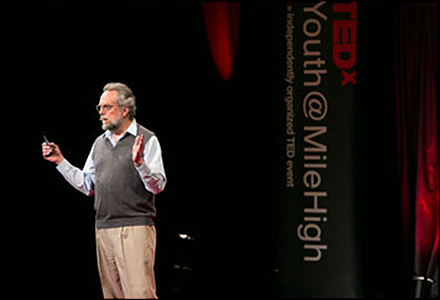 Using photos, diagrams and charts, a CU Denver professor demystified the world of math and showed how mathematical models can help political leaders keep the peace across the globe.
Loren Cobb, Ph.D., research associate professor in mathematical and statistical sciences and director of the CU Denver Statistical Consulting Service, was one of the featured speakers at TEDxYouth@MileHigh on Friday. He spoke before an audience of about 1,500 students, mostly from high schools and middle schools across Colorado, at the Ellie Caulkins Opera House in downtown Denver.
TEDx is a celebration of innovation and risk takers, part of a national gathering of Technology, Entertainment and Design that features pre-eminent leaders, performers and researchers in an exchange of forward-thinking ideas. Students got a charge out of Milo the Lynx, the new CU Denver mascot who mingled and posed for photos before the students went into the auditorium for two sessions of afternoon speakers.
For the second year, the University of Colorado Denver | Anschutz Medical Campus was the presenting sponsor of the TEDxYouth@MileHigh conference.
Cobb began his 15-minute presentation by explaining how his love for mathematics, and his concern about worldwide peace, fused into his lifelong work. It started with the example provided by his father, who was a physician who served in war-torn areas after World War II. "It's loneliness in the deserts of the Middle East that symbolizes for me the loneliness of people who work for peace their whole lives, as my father did and as I try to do," he said. "I use mathematics; he used medicine."
He explained how a simple dynamic -- of violence committed upon communities and how the communities respond in acts of revenge -- is responsible for war since the times of tribal man. "Who knows what feelings these kids (exposed to war) will grow up with? They will feel that the world is a dangerous place," Cobb said. "They may be angry, they may be desperate and hungry. They may be all too ready to go to war in revenge for what has happened to them, and the childhood that was stolen from them."
Cobb used mathematical modeling to show the spread of the black plague across Europe in the 14th century. He noted that it only took three equations to illustrate the entire evolution of the epidemic. When other variables are included, such a model can create a full model of the cycles of war and peace across the globe, Cobb said.
He ended with a call to action, asking the students to join in this important mathematical journey. "If you learn the mathematics you'll be able to see the patterns that no one else can see," Cobb said. "That's my invitation to you."
This was the first installment of the university's TED involvement this year. This week, the Anschutz Medical Campus will be one of a limited number of sites around the country that will present simulcast screenings of the TEDMED 2013 conference in Washington, D.C. See the schedule of TEDMEDLive here.