STORY
President at budget hearing: 'We're creating a culture of efficiency'
Benson tells JBC of crucial need for continued state support
While the University of Colorado and higher education across the state may see an increase in state support this coming year, CU will remain focused on finding operational efficiencies, President Bruce Benson told state lawmakers this week.
At his annual presentation Tuesday to the state's Joint Budget Committee (JBC), Benson said the university estimates it has saved about $35 million in recent years because of efficiency legislation. CU worked with lawmakers in recent sessions to achieve the changes.
"We're creating a culture of efficiency," Benson told the six-member committee, which heard presentations from state institutions of higher education throughout the day.
Still, Benson cautioned that diminished state funding has the potential to leave CU too lean for its own good. "I think we're getting close to that point," he said.
Improvements in state revenue led Gov. John Hickenlooper to propose a 5.8 percent increase in funding for state colleges next year, which would mean about $30 million. CU's allocation would mean a boost of about $9 million, based on the formula currently agreed upon by the state's higher education institutions. That budget will begin working its way through the Capitol once the 2013 legislative session begins next month.
Even if such an increase is approved, state funding for higher education will remain well below levels attained before severe funding cuts in recent years, even more so when inflation and enrollment growth are taken into account. (For details on the state funding trend and its effect on CU, see this graphic.)
While cost pressures have led to students and families needing to take on a greater share of college expenses, Benson said student loan indebtedness among CU graduates is below the national average.
Among CU's efficiencies attained in recent years are contributions by faculty, Benson said, noting that 25 percent to 30 percent of faculty are taking on heavier teaching loads than normally required, and many are taking on increased advising duties.
He also emphasized CU's contributions to the state, including economic development.
"We are great creators of jobs and we help drive this economy," he said.
CU's innovation can be better leveraged to benefit the university, too, he said: A study is under way to determine how to improve the monetizing of CU licensing and Technology Transfer ventures.
While the university garnered $815 million in researching funding last year – a modern record when recent years with federal stimulus funding are excluded – Benson cautioned that such funding is earmarked and therefore doesn't supplant much-needed state funding. The same is true of donor contributions to the university.
Student diversity, a frequent topic raised by lawmakers, also was addressed at the hearing. The president pointed to gains in diverse enrollment across all four campuses this past year.
Benson was joined at the hearing by Board of Regents Chair Michael Carrigan, Regent Steve Bosley and Todd Saliman, vice president of budget and finance and chief financial officer for the CU system. At the conclusion of the 40-minute presentation, Benson was praised by Rep. Cheri Gerou, R-Evergreen, who thanked him for his long-lasting involvement in the state's higher education.
"We earn more money than you do, but no one works harder than you do," she told him.
10-Year Trend in State Funding for CU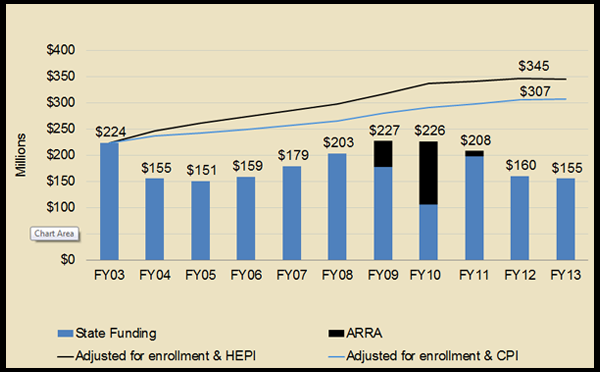 click for a larger view