STORY
President Benson to receive Courage in Education Award
Inaugural honor recognizes support of free speech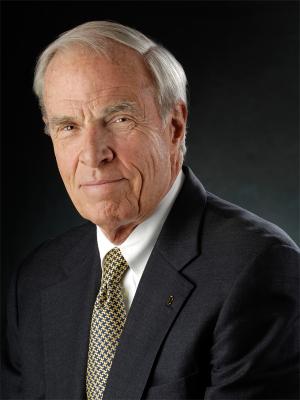 For his dedication to encouraging intellectual diversity and the free and robust exchange of ideas, CU President Bruce D. Benson will receive the inaugural Courage in Education Award from the Steamboat Institute at its 2016 Freedom Conference, set for Aug. 26-27.
"In recent years, we have observed many universities caving to the pressures of 'political correctness' and, in the process, stifling free speech and intellectual diversity on college campuses," said Jennifer Schubert-Akin, chairman and CEO of the Steamboat Institute. "Fortunately, for the citizens of Colorado and the students at CU, President Bruce Benson has demonstrated courage and leadership by encouraging intellectual diversity and free speech at CU."
Benson's leadership has enabled the culture on the campus to evolve to welcome intellectual diversity and the free and robust exchange of ideas, she said.
"Under his leadership, CU has made huge strides in advancing conservative thought and policy. Because of President Benson, CU is setting an outstanding example for other universities by encouraging open inquiry, vigorous debate, and the free exchange of ideas. The Steamboat Institute takes great pride in recognizing President Benson's courage and leadership by presenting him with a special 'Courage in Education' award."
Said Benson, "I'm honored to be the first recipient of the Steamboat Institute's Courage in Education Award. It recognizes the important work we are engaged in at CU to ensure that diversity of thought is a part of our institutional culture. It's critical that we teach students how to think, not what to think, and that our university is a place that values and promotes debate, discussion and, above all, free speech."
Benson will be honored at the closing luncheon of the Steamboat Institute's eighth annual Freedom Conference and Festival in Steamboat Springs on Aug. 27.