STORY
Postdoctoral research day highlights innovation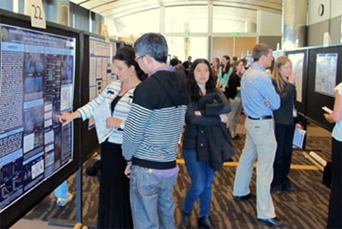 Innovation and creativity were the main themes running through the fifth annual Postdoctoral Research Day on March 14 at the Anschutz Medical Campus.
This year's keynote speech, entitled "So You Think You Can Innovate?" was delivered by Roberta Ness, MD, MPH, dean of the School of Public Health at the University of Texas and an expert on creativity and innovation in the sciences. In her speech, Ness highlighted how "innovation is the engine of science and progress" but said her belief that the term 'innovation' is used so often the term has lost its meaning.
Society's desire to explain innovation as "creativity with a use" is problematic for Ness. She feels that an individual's sense of creativity is a personal trait. She talked about visiting an art museum with her husband and looking at a completely black canvas. She said her husband's reaction was "Wow! that's so cool.'"
Her take: "That's a complete piece of garbage."
Humor as Innovation
Ness offered her own definition of creativity as "surprise in the service of health and prosperity." Humor, she said, is the highest form of innovation because in humor we are all surprised at the same moment and, therefore, we all laugh at the same moment.
"We use surprise in science," she said, "because we're trying to forward health and/or prosperity - that's what science is all about."
In addition to the keynote speech and roundtable discussions centered around non-academic careers, two poster sessions featured more than 60 displays of the independent research being conducted by postdocs at CU's Anschutz and Denver campuses, National Jewish Health and Children's Hospital Colorado.
Researching infant fat gain
Bridget E. Young, postdoctoral fellow in the Department of Pediatrics of the School of Medicine, showcased her study to discover if maternal obesity affects early infant fat gain. Young wanted to find out if if maternal obesity impacts certain components in breast milk that could affect infant fat gain in the first few months of life. The study revealed that, while the fat and calorie content of breast milk did not differ between normal weight and overweight mothers, infants of overweight or obese mothers had more lean body mass then infants of normal weight mothers.
"It's amazing and encouraging to see that there are very few differences in breast milk composition between these two groups of very different women," Young says. "Since it doesn't appear to be differences in the milk, we are excited to finish the study and hopefully determine what is driving the higher fat-free mass among infants of overweight mothers."
Katherine Belendiuk, postdoctoral fellow in the Department of Psychiatry, studied two groups of Colorado teenagers to discover the effect of marijuana commercialization on adolescent drug treatment outcomes. The first group of participants entered a drug treatment plan prior to Colorado's approval of medical marijuana in 2009, and the findings were compared against a group of participants who entered a drug treatment plan after 2009.
Belendiuk found that participants who entered the drug treatment plan after 2009 tested positive for higher levels of marijuana in their body, took longer to get "clean" and were less likely to be pot-free at the end of treatment.  This was attributed in part to the increase of marijuana dispensaries available to tempt users of the drug. Belendiuk now hopes to analyze the density of dispensaries close to the homes and schools of participants to see if it influences treatment outcomes.
Five participants, who received the highest scores during poster competition, have received a CU spending line-of-credit as prize:
Nicholas D'Amato, Pathology, SOM -- Jennifer Richer mentor
Daisy Dai, Dermatology, SOM -- Dennis Roop mentor
Amanda Pilling, Medical Oncology, SOM -- Robert Doebele mentor
Swati Jain, Renal Diseases and Hypertension, SOM -- Alkesh Jani mentor
Andre Tavares, Craniofacial Biology, SODM – David Clouthier mentor
The Postdoctoral Association also issued its first-ever award for postdoctoral mentoring to Jacob (Jed) Friedman, Pediatrics.